Extron PowerCage 1600
A Space Saving One-Box Solution for Fiber Optic Extenders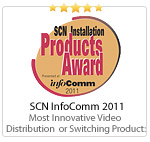 The Extron PowerCage® 1600 rack-mountable enclosure for fiber optic extenders supports a broad range of video formats and rates. The PowerCage 1600 can be populated with any combination of transmitters and receivers, providing the ultimate flexibility for AV systems that require long-haul AV signal transmission. PowerCage FOX Fiber Optic Extenders are part of the larger, comprehensive FOX Series of fiber optic products. They can be used for simple point-to-point applications, or in combination with other products including switchers, distribution amplifiers, and matrix switchers, to tackle the most challenging AV system designs with numerous inputs and outputs.
PowerCage FOX Fiber Optic Extenders:
Accommodates up to eight double-slot multi-function boards – The PowerCage 1600 accommodates up to eight FOX Fiber Optic Boards, providing a convenient rack-mount solution for long-haul transmission of AV signals.
PowerCage FOX Fiber Optic Extenders support HDMI, DVI-D, 3G-SDI, RGB, or standard definition video, stereo audio, and control over fiber optic cabling – Extend high-resolution or standard definition video over extreme distances up to 30 km (18.75 miles).
PowerCage FOX Fiber Optic Extenders deliver pixel-for-pixel image quality for high resolution video – All digital technology ensures pixel-perfect images over extreme distances at the highest resolutions.
PowerCage FOX Fiber Optic Extenders are compatible with FOXBOX and FOX Series transmitters and receivers – Extend PowerCage FOX transmitter and receiver boards can be mixed and matched with FOXBOX and FOX products for versatile system designs and configurations, including ultra-long distance digital-to-analog and analog-to-digital video conversion, without the need for external signal conversion devices.