Extron Receives Two Awards at NSCA
Public relations contact:
Joe da Silva, Vice President of Marketing
Extron
E-mail: pr@extron.com
Anaheim, California (March 23, 2006)
- Extron Electronics is pleased to announce that the
MGP 464
and the Extron Web site both won 2006 Innovations in Technology Awards. These awards were presented at NSCA – National Systems Contractors Association Expo and were sponsored by Sound & Video Contractor magazine. The awards are designed to recognize manufacturing companies that make exceptional contributions to the electronic systems industry. The MGP 464 – Four Window Multi-Graphic Processor won in the Convergence category, and the Extron Web site -
www.extron.com
took top honors in the Web site category.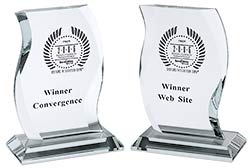 Click here to download high resolution image
The MGP 464 is a Four Window Multi-Graphic Processor for picture-in-picture display of high resolution computer-video graphics and HDTV or NTSC/PAL video sources. The MGP 464 accepts up to 19 input sources and features a true 19x4 input matrix switcher that allows any source to be displayed in any or all of the four available on-screen windows. Presentations can be fully customized, and also enhanced by incorporating an image or live video as a background. The Extron Web site –
www.extron.com
offers numerous features which help distinguish it as an informative and educational resource. In addition to comprehensive product information on hundreds of products, the intuitively designed site provides interactive tools such as the new MediaLink® System Configurator, and the AAP Configurator. The Extron Web site also offers E-Demos - interactive product demonstrations, plus a wealth of technical articles, white papers, and application diagrams. There is also a dealer and consultant-only area which hosts special announcements, product availability, and other valuable industry information. For more details, visit the press area of Extron's Web site at
www.extron.com/press
.