Extron Now Shipping Pro Series Control Systems
Public relations contact:
Joe da Silva, Vice President of Marketing
Extron
E-mail: pr@extron.com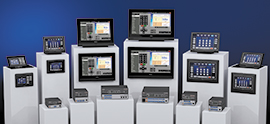 Anaheim, California (April 29, 2014) - Extron Electronics is pleased to announce the immediate availability of many exciting Pro Series control systems products, including TouchLink Pro touchpanels, IP Link Pro control processors, Global Configurator Professional, LinkLicense, and several Pro Series accessories. Extron Pro Series takes configurable control to a whole new level with a broad range of tools and breakthrough technologies geared to handle the evolving complexities of today's AV system designs. In addition to more processing power, greater security, and enhanced overall performance, all Pro Series control systems are designed to make complex systems simpler and simple systems more powerful. As always, these new Pro Series products are backed by the Extron Quality Guarantee and award-winning S3 customer support.
"We are very excited to make these Pro Series control systems available to our customers," says Casey Hall, Vice President of Sales and Marketing for Extron. "Our new advanced hardware combined with the industry's most powerful configurable control software now allows more dynamic and elaborate system designs to be realized across the broadest range of applications."
Customers now have immediate access to six powerful TouchLink Pro touchpanels including a five inch model with capacitive touchscreen, five IP Link Pro control processors including two with LinkLicense capability, Extron LinkLicense - an exciting new way for people to use their mobile devices as primary control interfaces, Global Configurator Professional, the all new GUI Designer interface design software, and four Pro Series control accessories.
For more information on Extron Pro Series control systems, please visit: www.extron.com/proseriesnspr