Extron's New, Larger Matrix Switchers Offer Exceptional High Performance and Value
Public relations contact:
Joe da Silva, Vice President of Marketing
Extron
E-mail: pr@extron.com
Anaheim, California (March 16, 2006)
- Extron Electronics announces the addition of 48 larger, fixed I/O matrix switchers to our popular
CrossPoint 450 Plus
and
MAV Plus Series
lines. With the simplicity of single part number ordering, the CrossPoint 450 Plus and MAV Plus Series offer exceptional high performance and value. The new switchers are suitable for most common video, ultra-wideband, and audio switching applications, including auditoriums, arenas, command and control centers, college and university campuses, and retail environments.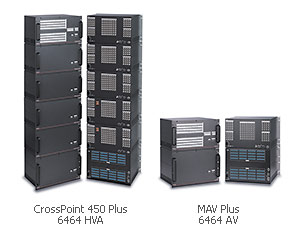 Click here to download high resolution image
"These new, larger models bring Extron's cost-effective, fixed I/O matrix switcher design and innovative feature set to signal routing applications up to 64x64," says Lee Dodson, vice president of marketing for Extron. "Integrators can now utilize these large matrix switchers with the same ease of installation and control they value in our smaller MAV Plus and CrossPoint 450 Plus models." Available in sizes 32x48 up to 64x64, with or without audio, the CrossPoint 450 Plus and MAV Plus Series share many standard features, such as Extron's
IP Link®
Ethernet technology, an IP integration technology that enables AV resource management, diagnostics, and control over a WAN, LAN, or the Internet; audio output volume control, which eliminates the need for separate audio preamplifiers and makes system design easier; and I/O grouping for dividing the matrix switchers into small sub-switchers, simplifying system management and control. In addition to larger composite video and stereo audio models, the MAV Plus Series includes eight mono audio matrix switchers, also ranging in sizes from 32x48 up to 64x64. These models offer the option of routing balanced or unbalanced mono audio in speech reinforcement and background music applications, particularly where 70/100v distributed audio system designs are being utilized. These mono audio switchers are designed to be easily paired with any Extron MAV Plus Series video-only or CrossPoint 450 Plus RGBHV-only matrix switcher. For pricing and additional information, contact an
Extron Customer Support Representative
at 800.633.9876. Visit the press area of our Web site at
www.extron.com/press
for more information.