Extron Introduces New, Larger VGA and Stereo Audio Switchers
Public relations contact:
Joe da Silva, Vice President of Marketing
Extron
E-mail: pr@extron.com
Anaheim, California (May 8, 2008)
- Extron Electronics is pleased to introduce new eight- and twelve-input VGA and stereo audio switchers as part of the popular SW VGA Series. The SW8 VGA and SW12 VGA are compatible with computer-video resolutions up to QXGA and feature dual buffered outputs, input signal sensing, auto-input switching, and multiple modes of control. All models are compatible with high-resolution RGBHV computer-video signals, as well as HDTV component analog signals with tri-level sync, making them ideal for small to mid-sized applications where high resolution switching is needed.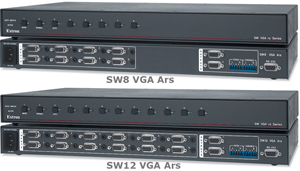 Click here to download high resolution image
"AV system designers look to Extron for product innovation and technologies that improve system performance while reducing overall installation cost," says Lee Dodson, Vice President of Marketing for Extron. "These new switchers incorporate a wide range of integration-friendly features designed to enhance system functionality."
The Extron SW VGA Series of switchers is available in sizes from two inputs to twelve inputs. In addition to auto-input switching, which automatically switches to the highest-numbered input with an active sync signal, all SW VGA Series switchers can be controlled via their front panel, RS-232, and contact closure remote control. All models also feature active PC audio buffering, which converts unbalanced stereo audio to balanced line level signals, providing enhanced protection from hum and interference over long cable runs; and audio output volume control, which eliminates the need for a separate audio preamp in many system designs, reducing cost and simplifying integration and control programming.