Extron Introduces New, Larger VGA and Stereo Audio Distribution Amplifiers
Public relations contact:
Joe da Silva, Vice President of Marketing
Extron
E-mail: pr@extron.com
Anaheim, California (May 8, 2008)
- Extron Electronics is pleased to introduce new eight-output and twelve-output VGA and stereo audio distribution amplifiers as part of the popular P/2 DA Series. The P/2 DA8 and P/2 DA12 Series are compatible with computer-video resolutions up to QXGA and feature fully buffered outputs, selectable input and output sync impedance, ID bit/DDC routing to the local monitor output, and individually selectable output muting. Two models in this series, the P/2 DA8 A and P/2 DA12 A also feature active PC audio buffering. All models are compatible with high-resolution RGBHV computer-video signals, as well as HDTV component analog signals with tri-level sync, making them ideal for AV signal distribution needs in commercial, rental and staging, and residential applications.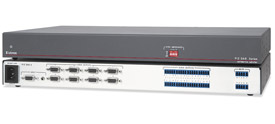 Click here to download high resolution image
"These new sizes extend the price/performance benefits of the P/2 DA Series to the larger AV distribution system designs commonly found in courtrooms, conference facilities, and similar high profile environments," says Lee Dodson, Vice President of Marketing for Extron.
The Extron P/2 DA Series of VGA distribution amplifiers is available in sizes from two outputs to twelve outputs. All models offer 350 MHz (-3dB) RGB video bandwidth, fully loaded, for optimum signal integrity at the highest computer-video resolutions. ID bit routing is provided to maintain compatibility with Windows® Plug-and-Play displays. Audio-capable models feature active PC audio buffering, converting unbalanced stereo audio to balanced, line level signals to eliminate unwanted noise over long cable runs.