Extron Introduces New Universal AC Power Outlets for Hideaway® and Cable Cubby® Surface Access Enclosures
Public relations contact:
Joe da Silva, Vice President of Marketing
Extron
E-mail: pr@extron.com
Anaheim, California (24 April, 2008)
- Extron Electronics is pleased to announce that the
HSA — Hideaway Surface Access
and
Cable Cubby Surface Access
enclosures are now available with universal AC power outlets. The new outlet accepts a wide variety of AC power plug styles, including those used in the UK, Central Europe, France, Switzerland, Denmark, Italy, Australia, and India, eliminating the need for most power adapters. Extron surface access enclosures offer elegant audio and video connectivity solutions, providing discreet access to video, audio, data, and power. Available in multiple designs and classic finishes, these enclosures blend seamlessly into aesthetically sensitive, high profile surroundings.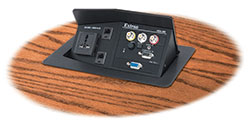 Click here to download high resolution image
"The universal AC power outlet brings the freedom and convenience of nearly global AC power compatibility to users of the HSA and Cable Cubby enclosure series," says Rainer Stiehl, Vice President of Marketing, EMEA. "With a universal AC power outlet installed there's no need to search for the correct power adapter. Individuals can simply plug in their powered product and proceed with the important business at hand."
New Lower Prices Extron Cable Cubby and Hideaway Surface Access enclosures have price reductions up to 38%, depending on model, and an average price reduction of 18% across all models. In addition, the Brushed Aluminum finish is now priced the same as the standard black finish.
Available in 14 different sizes and configurations, HSA and Cable Cubby models are ideal for use in professional AV presentation environments, as well as in hotels and conference centers.