NetPA 502 AT and NetPA 1001-70V AT
Audio Power Amplifiers with Dante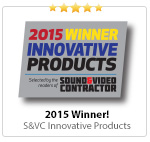 The Extron NetPA 502 AT and NetPA 1001-70V AT are half rack 1U, convection cooled power amplifiers featuring Dante® digital audio networking. They deliver two channels of 50 watts into 4 ohms, or a single channel of 100 watts at 70 volts. NetPA® amplifiers receive audio from Dante-enabled devices over a standard local area network, allowing for decentralized distribution of audio throughout a building. In addition to amplifying incoming Dante audio, NetPA amplifiers feature line level outputs that can simultaneously feed an additional speaker zone or audio system. They are ENERGY STAR® qualified amplifiers with an Extron exclusive, highly efficient, advanced Class D amplifier design. They also feature patented CDRS™ - Class D Ripple Suppression that provides improved signal fidelity over conventional Class D amplifiers.
Key Features
Receives input signals via the Dante audio network
100 watts rms output power:

NetPA 502 AT - 2 x 50 watts @ 4 ohms or 2 x 25 watts @ 8 ohms
NetPA 1001-70V AT - 1 x 100 watts @ 70 volts

ENERGY STAR qualified amplifier
Dante audio networking provides a wide range of expansion capabilities
Dante audio to line level outputs
Professional grade signal-to-noise and THD+N performance
Extron Patented CDRS - Class D Ripple Suppression
Convection cooled, fanless operation
Ultra low inrush current – no need for power sequencing
Rack-mountable 1U, half rack width enclosure
Highly reliable, energy-efficient internal universal power supply
Dante Audio Networking

Dante technology from Audinate provides digital audio distribution over standard local area networks. Dante allows high resolution audio channels to be transported uncompressed across a switched Ethernet data network using standard TCP/IP protocols, while meeting the stringent quality requirements of professional audio. With Dante, the NetPA amplifiers can receive high resolution digital audio from remote devices on the Dante network, such as from an Extron DMP 128 AT. NetPA amplifiers can be linked to Dante-equipped devices through standard network hardware, including the Gigabit switches built into Extron Dante-enabled processors, or by connecting into a network infrastructure. Also supporting AES67 for Audio over IP Interoperability and Dante Domain Manager enterprise level network management, the NetPA power amplifiers can connect to other devices that support AES67 and work within a DDM-enabled network infrastructure.