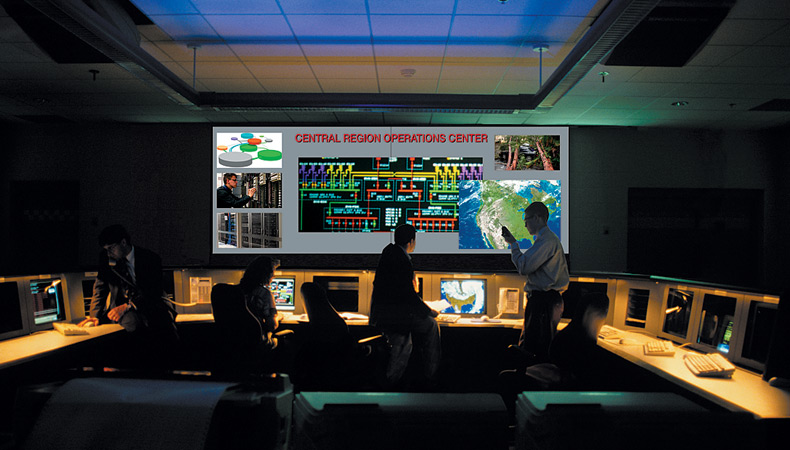 Network Operations Center
Overview
This Network Operations Center is used for maintaining a corporation's network and Internet firewall reliability. The NOC staff will monitor both the local and wide area networks for quality assurance. In addition, they will monitor the firewall between their networks and the Internet. This will help them maintain security from outside the corporation's networks. Requests for IT and network support within the corporation will also be managed by the NOC.
Room Needs Assessment
Staffing
NOC manager, firewall manager, ticket and dispatch operator, support manager, network manager, and contract vendor
Viewing Distance Range
Between 7 feet (2 meters) and 15 feet (4.5 meters)
Computer Sources
Three PC workstations with DVI outputs at 1400x1050 resolution, two PC workstations with analog 15-pin HD output at 1280x1024 resolution, and one PC workstation with 15-pin HD output at various resolutions.
Other Sources
Two cable TV receivers with composite output for news and weather information, one Blu-ray player for viewing training materials, and one security camera for the outside perimeter.
Audio Requirements
Audio playback of PC content and video sources throughout the room.
Functional Requirements
Typically, there will be five sources that need to be viewed simultaneously: one large view of the firewall management software, and smaller views of news, weather, ticketing, and troubleshooting. However, any of the system sources may need to be directed to the large view at any time. The NOC manager will determine and control the different views and content on the display system. System outputs will be available to remote meeting rooms to allow further analysis and collaboration of situations requiring more attention. These rooms are used for strategy sessions and presenting findings to larger groups.
System Design Solution
Display System
Two 67 inch (170 cm) diagonal rear projection display cubes at 1400x1050 resolution will be configured in a 1 unit high by 2 unit wide array. The bottom of the screen area will be mounted at 48 inches (122 cm) AFF - Above Finished Floor. The individual screen size is approximately 40 inches (102 cm) high by 53 inches (135 cm) wide. The overall image size will be approximately 40 inches (102 cm) high by 106 inches (270 cm) wide, producing an aggregate resolution of 2800x1050 pixels.
Display System Processor
The Extron WindoWall™ System will be the base of the system. There will be two WindoWall Processors in conjunction with an Extron XTP CrossPoint 1600 Modular Digital Matrix Switcher loaded with two XTP CP 4i input boards, one XTP CP 4i VGA input board, two XTP CP 4o output boards, one XTP CP 4o output board, and one XTP CP 4o SA output board. This configuration will, provide source selection, local and remote signal distribution, and image control for the display system. The WindoWall Console software will control the WindoWall Processors and XTP CrossPoint 1600 matrix switcher. The intuitive GUI will allow the user to select from any of the video sources, and simultaneously view them on the displays. Onscreen windows for each of the sources can be dynamically sized and positioned anywhere on the aggregate display area. Presets for the different configurations may be saved for quick recall.
Signal Distribution
Extron XTP T HDMI Long Distance XTP Transmitters will be used to extend DVI video signals over CAT 5-type cables. This will provide an effective method of extending the DVI signals from the PC sources to the receiver board within the XTP CrossPoint 1600. The XTP T HDMI supports DDC and HDCP, which will provide reliable long distance DVI signal distribution. The Extron DVI 104 Fiber Optic Extenders will be used to extend the DVI output from the WindoWall Processors to the displays. The analog PC signals will be digitized and transmitted to the XTP CrossPoint 1600 using Extron XTP T VGA Long Distance XTP Transmitters. Additional analog PC sources will be connected directly to the XTP CP 4i VGA universal input board, along with the cable TV receiver, DVD player, and perimeter camera. This will bring all digital and analog video sources into WindoWall as a single system. XTP CP 4o transmitter boards will be utilized to provide XTP CrossPoint 1600 outputs to XTP R HDMI receivers in remote meeting room locations.
Audio System
The XTP CrossPoint will be populated with an XTP CP 4o audio output board for distribution of the source audio signals to the Extron XPA 2003C Power Amplifier. The XPA 2003C will be used for the eight Extron SI 26CT Ceiling Speakers to provide even coverage throughout the room. The XPA 2003C will also be used for the Extron SI 28 Surface Mount Speakers located on each side of the display system. The SI 28 speakers will provide proper orientation of the audio with the video source viewed on the display wall.