The New Extron.com Product Page
We are pleased to announce significant updates to the Extron.com product pages. You will find all of the same information you've come to rely on, now presented in a clean new layout, with several features to improve your productivity and Web site experience.
A New Product Browsing Experience
We've cleaned things up to give you more room for product information, while allowing you to jump quickly between products, either by using the breadcrumbs at the top of the page, or the handy paging buttons on the sides.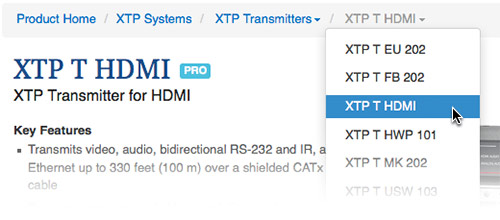 We've given you a larger product photo, and included a new mouse-to-zoom feature that lets you get in close and really examine the buttons, connectors, and other product details. Of course, we've kept the handy image gallery as well; giving you access to larger, more detailed photos of each model.
The highlight panels on the right give you quick access to key materials for a product, with links to videos, builders, A&E specifications, and more.
Also included are new panels that highlight similar and compatible products, as well as optional and included accessories. Clicking on a product brings up Extron's new Product Guide view: An effective way to quickly browse a group of related products without leaving the page. If you need more information, just click the Product Details button.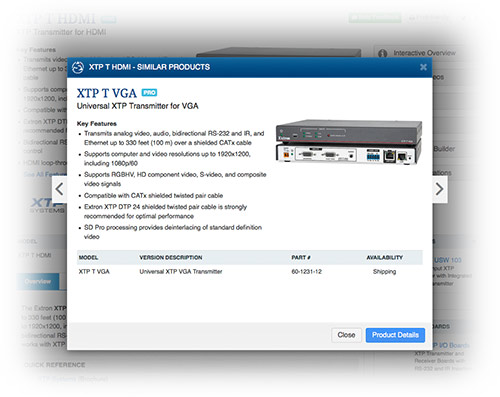 New Tools for Extron Insiders
Extron Insiders will appreciate the new pricing controls that allow you to toggle the display of Your Price, MSRP, and availability information. No more having to log out when showing a product to a customer.
Finally, you can share product information with customers and colleagues by printing, tweeting, or emailing the page.
We Welcome Your Feedback
You will occasionally be prompted with a quick, one-question survey at the bottom of the page that asks about your experience on the site, like this:

While you can ignore these if you're in a hurry and just need to get some information, we'd appreciate it if you'd take a second to rate your experience before continuing your browsing.
Additionally, there is a "Feedback" button on each page that you can use at any time to send us your thoughts on the new page and details of any issues you might be having.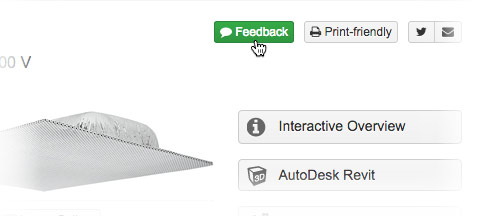 All The Same Content You've Come to Trust
With all these new changes, you'll be glad to know that the basic structure of the pages is unchanged, providing the same features, specifications, diagrams, videos, and downloads you've come to expect from Extron. The new page should feel fresh and familiar at the same time.
This is just the first in an exciting lineup of upcoming changes to Extron's award-winning Web site. Stay tuned for future updates and announcements.
I like using the forward and back buttons to search through a series of products. Beats having to start all over again when trying to compare items.
Featured Media