Extron XTP and Pro Series Control Help NCSOFT Deliver the Games the World Plays
Public relations contact:
Joe da Silva, Vice President of Marketing
Extron
E-mail: pr@extron.com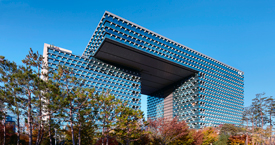 Anaheim, California (November 11, 2020) - NCSOFT is an international leader in the multiplayer online gaming industry. Video is one of the most important aspects of their business. To keep pace with the high-performance scene switching and color depths integral to advanced game development and presentation, the AV systems at their corporate headquarters in Seoul, South Korea, were upgraded. The project included the auditorium and the convention hall. At the front of each room is an LED display system while displays mounted on the side walls augment viewing. Content is sourced from local laptops and connected mobile devices, as well as high-definition robotic video cameras. Integration firm YOUNGJUN TNC worked closely with NCSOFT to design an XTP system for each room to support HDMI and SDI signals with 4K/60 4:4:4 video routing. The XTP system is operated using Exton Pro Series control products.
"The Extron XTP Systems and Pro Series control products provide all that is needed for this multiplayer online game developer and international leader in the video game industry," says Denis Park, Director at YOUNGJUN TNC.
The XTP II CrossPoint matrix switcher was chosen for its flexibility, robust integration features, modular frame, and redundant power supplies. Its built-in technologies streamline the exchange of EDID and HDCP-encrypted content. A 50 Gbps backplane provides the bandwidth for 4K/60 at 4:4:4, as well as the 48 Gbps data rate of 8K video. Each control system is based on an Extron IP Link Pro processor that includes the LinkLicense for User Interfaces upgrade. This enables NCSOFT-authorized tablets running the Extron Control app to conveniently select the sources to be routed to each display. Finally, the modularity of the XTP II CrossPoint matrix switcher provides system expandability and a clear AV upgrade path.
To read the full NCSOFT story, click here.