Extron FOX3 Delivers Secure AV, USB Data, and Control Over Fiber at North Carolina's Emergency Operations Center
Public relations contact:
Joe da Silva, Vice President of Marketing
Extron
E-mail: pr@extron.com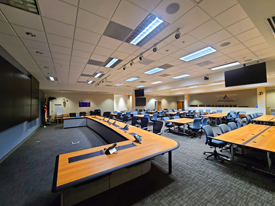 Anaheim, California (August 23, 2023) -The North Carolina Department of Public Safety required an updated Emergency Operations Center (EOC) Situation Room and the addition of breakout spaces to be the nucleus for disaster recovery, homeland security, hazardous materials mitigation, and more. State officials brought in Integrated Information Systems, Inc. (IIS) to mastermind and deploy a new AV system. Working closely with the state's IT team, they unanimously selected Extron FOX3 fiber optic systems.
"AV system reliability is critical in an EOC," says Tre Washington, General Manager at Integrated Information Systems, Inc. "The Extron team made it possible to keep the EOC open, not only with their products but also with their support; everything with Extron is top notch."
To support those responding to a wide variety of emergency-related activities, the AV system in the main hub was replaced with an Extron FOX3 modular fiber optic matrix switcher, and 14 new breakout rooms were tied in over a multimode fiber optic cable infrastructure. Content from multiple 4K/60 HDMI and USB sources and camera feeds is available for presentation on the EOC's many display devices simultaneously. During a crisis, the Situation Room's 3x3 videowall driven by an Extron Quantum Ultra 4K videowall processor is the focal point. Built-in technologies such as Extron's Vector 4K scaling and HyperLane® bus ensure precise image upscaling and downscaling and smooth presentation of sources in real time, with no variance in frame rates regardless of layout. Breakout rooms all have access to the same resources as the Situation Room. Extron SMP Series H.264 streaming media processors enable event recording, as well as streaming. To help drive videoconferencing in the Situation Room, an Extron MediaPort HDMI and audio to USB scaling bridge is connected to the system at the main workstation.
The North Carolina state officials use the EOC for centralized monitoring, control, and sharing of video and audio from the wide array of sources to communicate with local personnel and those in the field. Not only is the FOX3 system effective and efficient during daily activities, the EOC's new installation has proven successful in facilitating monitoring and collaboration among diverse agencies throughout drills and response simulations. With their upgraded EOC, North Carolina is ready for the next weather-related or civic emergency situation.
To read the full case study, click here.