The Most Advanced AV Over IP Wallplate Encoders
Public relations contact:
Joe da Silva, Vice President of Marketing
Extron
E-mail: pr@extron.com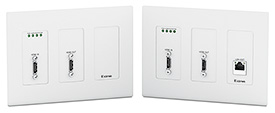 Anaheim, California (November 5, 2020) - Extron is pleased to introduce two new NAV encoders, which feature a stylish, decorator-style wallplate design. These models support streaming visually lossless 4K video with ultra-low latency. With support for 1 Gbps Ethernet networks and optional Ethernet expansion ports, the NAV wallplate encoder series uses the Extron-patented PURE3 codec to deliver groundbreaking performance with real-time, visually lossless video at resolutions up to 4K@60 Hz with 4:4:4 chroma sampling.
"We're really excited to introduce our new decorator-style NAV wallplate encoders, which feature the industry's most advanced technology in a stylish, convenient form factor," says Casey Hall, Vice President of Worldwide Sales and Marketing at Extron. "This new wallplate form-factor makes it easy for integrators to elegantly install NAV encoders right where they are needed, in walls, lecterns, floor boxes, or any presentation furniture that accommodates a 3-gang junction box."
The award-winning NAV Series is the only solution featuring seamless, complete interoperability between 1 Gbps and 10 Gbps devices, increasing scalability and flexibility for large deployments. Support for AES67 audio over IP facilitates integration with Extron's broad range of audio DSPs or other IP-enabled audio components. NAV systems can be deployed as a high-performance IP-based video and audio matrix, combining the flexibility of an IP-based system with the integration-friendly switching features found in Extron conventional matrix switchers. Purpose-built to support demanding professional AV applications, the highly scalable and powerful NAV platform enables secure distribution of AV signals to thousands of endpoints.
For more information about NAV Decorator-style Wallplate Encoders, click here.