Extron Debuts Expanded I/O Sizes for MVX Series Matrix Switchers
Public relations contact:
Joe da Silva, Vice President of Marketing
Extron
E-mail: pr@extron.com
Anaheim, California (March 15, 2007)
- Extron Electronics is pleased to announce the addition of three new, larger sizes to the popular MVX VGA A series of wideband VGA and stereo audio matrix switchers. The new models are available in I/O sizes of 12x12, 16x8, and 16x16. With wideband performance and convenient 15-pin HD connectors,
MVX Series matrix switchers
are ideal for applications such as conference rooms, classrooms and computer training labs, mobile and emergency operations centers, rental/staging, and video conference facilities.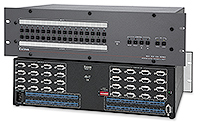 MVX 1616 VGA A

Click here to download high
resolution image
"The installation convenience of pre-terminated VGA cables has made the MVX Series popular, wideband signal routing alternatives," says Lee Dodson, Vice President of Marketing for Extron. "These larger sizes add a new dimension of integration flexibility to customers working with space-constrained system designs."
MVX Series Matrix Switchers provide 300 MHz (-3 dB) RGB video bandwidth, fully loaded, and are housed in compact, rack-mountable enclosures. Advanced audio features include input gain and attenuation, and output volume control.
For pricing and availability, contact an Extron Customer Support Representative at: 800.633.9876.
Visit the press area of our Web site at www.extron.com/press for more information.