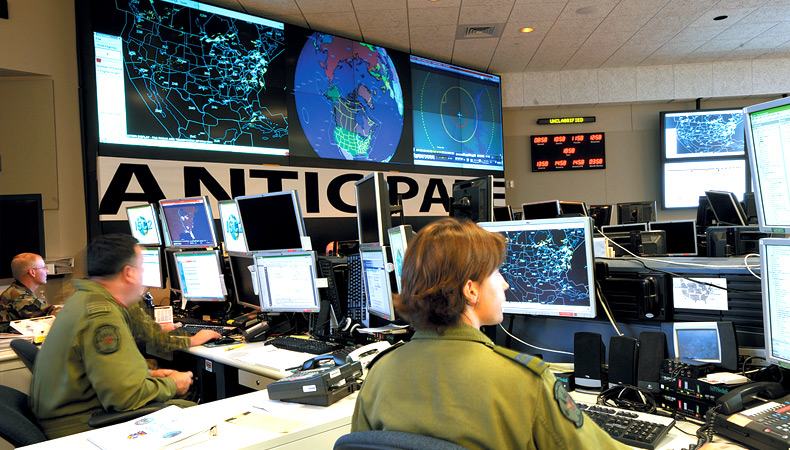 Multi-Screen Recording & Playback
Overview
Videowalls or multi-display systems are often employed to conduct and monitor real-world events or experiments in which the content displayed can be a combination of real-time sources such as simulators, various data acquisition and measurement systems, remote cameras, live television broadcasts or Webcasts, and more. The ability to record, document, and replay such presentations can be highly valuable for analysis, training, or insurance purposes, since re-creating the event or experience is impractical or too expensive. A solution is needed that allows personnel to re-experience the visual and audible event as it originally happened.
Room Needs Assessment
Work Flow
Creative staff in the production facility have prepared the video or animation material and are prepared to play back the material for review. Account staff at the presentation suite manage the customer discussion and review workflow.
Source Inputs
Four PCs with DVI outputs generate real-time visualizations, and four PCs with analog RGB outputs present data and maps. Resolutions vary from 1024x768 to 1920x1200. There are also four satellite receivers with S-video outputs.
Display
The display system is a 3x1 videowall with 1080p native resolution per display. The videowall processor should present multiple sources on the displays in a variety of windowing arrangements.
Presentation Control System
A touchpanel control provides a user-friendly interface to select different window and source arrangements. Simple presentation recording and playback control is also required.
Analytical Recording Controls
For analysis and examination purposes, the recording system must provide a means to efficiently move forward or backward through the content, quickly, slowly, or frame-by-frame.
Audio
Analog stereo audio from any of the PC or satellite TV sources can be played through the audio system. Select audio sources will be recorded and played back with the videowall content.
Network
IP streaming-based recording will require a LAN with a Gigabit Ethernet switching backbone.
Recording and Playback Requirements
The image compression for recording must encode at very high quality so that fine spatial and motion details in high resolution graphics are maintained. The recorder must be capable of playing back recordings at the original quality, and maintain tight frame synchronization between the streams to the videowall. It should support up to 30 hours of recording, and include tools for exporting the video for use in video production systems or viewing on PCs.
System Design Solution
Switching and Processing
This presentation system is capable of displaying up to 12 image sources on the videowall. The Extron WindoWall ® System provides dedicated videowall processing at 1080p to each display for optimal performance and reliability. An Extron SMX 500 System MultiMatrix modular matrix switcher distributes the input sources to the WindoWall System. It is equipped with SMX DVI Pro , SMX VGA , and SMX S-video matrix modules, all in 4x4 sizes, plus a 16x16 SMX Stereo Audio module.
Displays
Three DLP ® projectors are installed in a 3x1 array and a rear-projection configuration. The screen mounting system features very thin bezels resulting in a nearly continuous screen across the array. The screens together measure 4 feet (1.2 m) tall and 21.3 feet (6.5 m) wide.
Streaming Codecs
Extron VNC 225 DVI VN-Matrix ® Codecs will be interfaced with the three DVI outputs from the WindoWall System. It provides a loop-through connection to the displays so that the codecs will not affect the existing videowall. In record mode, the codecs encode the WindoWall outputs delivering 60 frames per second motion and visually lossless image quality to the Extron VNM Recorder . The bit rates are practical for use on a Gigabit LAN. In system playback mode, the codecs decode streams from the VNM Recorder and output to the projection displays. The PURE3 codec ensures images are reproduced with the same quality that was experienced during the original event.
Recorder
The VNM Recorder will provide approximately 30 hours of content storage for the three streams, based on a bit rate of 50 Mbps per HD video stream and the 2 TB of available RAID5 content storage. Close frame synchronization is maintained between the three video streams through the use of RTP - Real-time Transport Protocol and RTCP - Real-time Transport Control Protocol which apply timestamps to streamed data packets managed by VNM Recorder. The VNM Recorder provides a tool to export sequential JPEG frames for use in video production systems offline, and live or playback streams can be viewed on PCs using VNM Software Decoder .
Control System
An Extron VNM Enterprise Controller provides system control over the VN-Matrix codecs and VNM Recorder. A basic recording and playback interface is provided by the Extron TLP 1000TV TouchLink™ Touchpanel interface and an Extron IPCP 505 IP Link ® Control Processor is used to control the four satellite receivers, SMX 500, WindoWall System, and audio volume control.
Analytical Recording Control
A dedicated PC with a jog/shuttle controller will be used for full analytical control over recording and playback of the streams through access to the Web-based user interface for the VNM Enterprise Controller, and control interface protocol. With the jog/shuttle controller, a user can quickly scan through recorded content by going forward or jumping back at speeds such as 2x or 4x real-time speed, or slowly advancing forward or backward frame-by-frame.
Network
A managed 24-port Gigabit Ethernet switch will be used as the backbone switching infrastructure, and be programmed to provide a dedicated VLAN - Virtual LAN for the VN-Matrix codecs, recorder, and controller. The VLAN will also tie into external storage for archiving recorded files and all other networked devices in the system.
Audio
Audio playback is handled through an Extron XPA 1002 Stereo Power Amplifier and two Extron SI 28 Surface Mount Speakers. The user can control the SMX 500 through the TouchLink touchpanel to adjust audio levels and route audio from any of the PCs or satellite receivers to the sound system and the streaming codecs. The codecs will require converters for interfacing between S/PDIF digital and analog audio.