Middle Tennessee State University Creates Dynamic Self-Help Interface Using Extron Control Hardware and Software
Public relations contact:
Joe da Silva, Vice President of Marketing
Extron
E-mail: pr@extron.com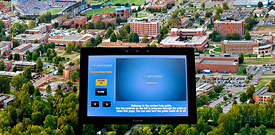 Anaheim, California (December 1, 2022) - The technical support staff at Middle Tennessee State University (MTSU) is always busy helping users across the 550-acre campus get the most out of their AV equipped learning spaces. Recently, they needed a way to reduce the service call volume to a more manageable level. MTSU's AV control system programmers devised an AV user interface for their Extron TouchLink Pro touchpanels that helps classroom users help themselves when it comes to routine AV system operation and minor troubleshooting. Extron's Global Configurator Professional and GUI Designer software were key to creating the intuitive user interface that's helping to reduce the service call load.
"Previously, instructors would often call us out to the classrooms for issues as simple as a blank screen caused by a PC or document camera that wasn't turned on," says James Copeland, MTSU's Director of Classroom Technology Client Services. "Now, the touchpanel prompts them with 'Please Power-on the PC', and when the system then detects an active signal, the touchscreen confirms with 'PC Signal Detected'. Something this simple has reduced such time-consuming service calls to zero."
The self-help interface guides users through routine AV system operations from startup to shutdown in real time with interactive GUIs displayed on TouchLink Pro touchpanels. The control software recognizes the AV system configuration of each room and customizes the guidance accordingly. Touchpanel on-screen hardware status displays allow the self-help interface to perform semi-automated interactive troubleshooting sequences for common issues that can be fixed by users, such as disconnected cables or forgetting to turn on an AV source device. Users can familiarize themselves with AV system operation by playing an animated help guide video, displayed right on the touchpanel. A set of system configuration touchscreens provides tools used by MTSU's tech support personnel and third-party AV system integrators for advanced AV system troubleshooting and new system commissioning.
To read the MTSU Self-Help Interface case study and watch the associated demo videos, click here.