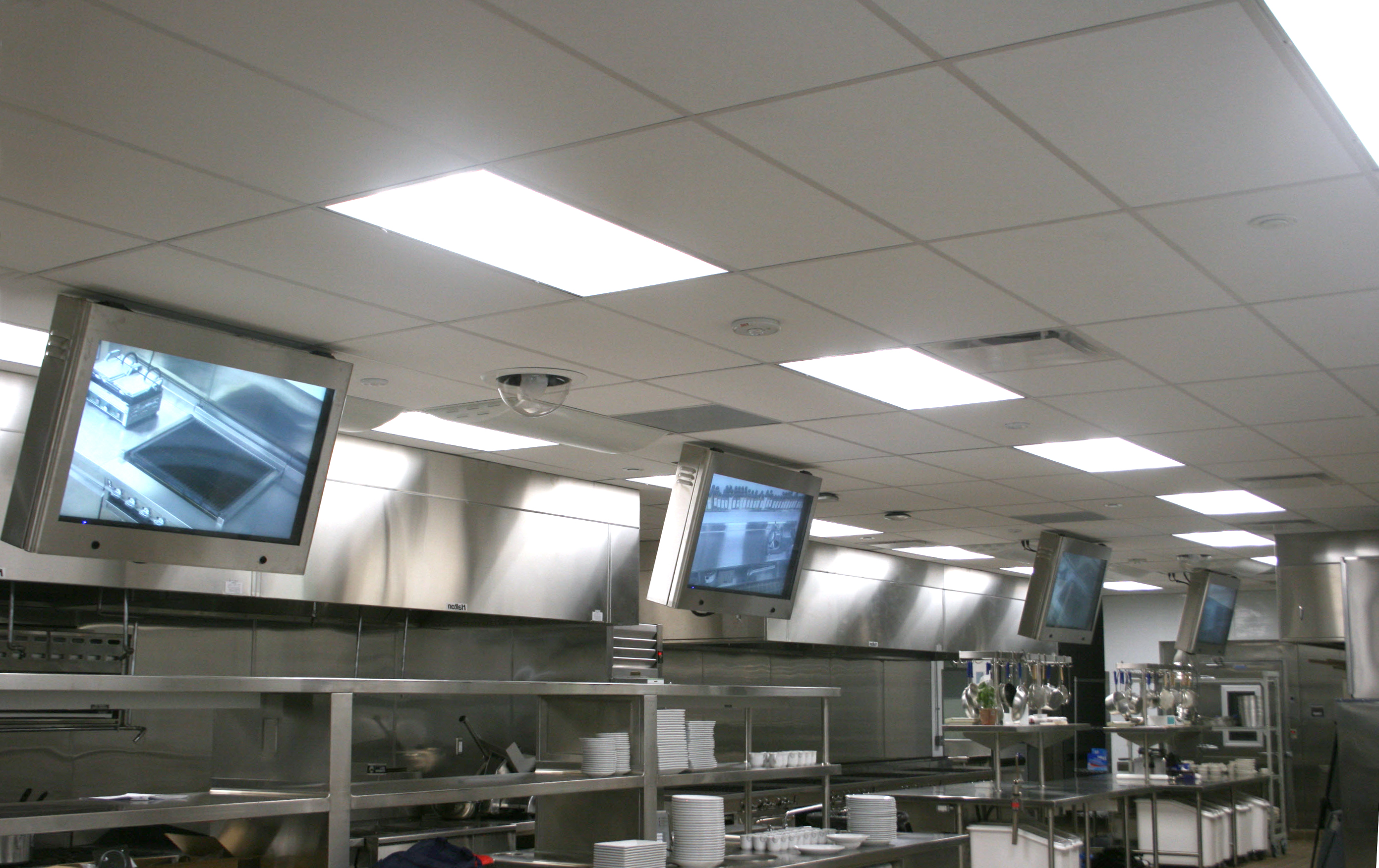 Extron XTP Systems and Pro Series Control Enhance Culinary Arts Program at Mt. San Antonio College
XTP simplifies operation of our teaching kitchens and other culinary spaces by providing a central application that is efficient, flexible, and upgradable in the future. It's also easy to use with the Pro Series control system for touch automation."
Challenges
At Mt. San Antonio College – Mt. SAC in Walnut, California, a little over 4,800 square feet (446 square meters) of the new Business and Computer Technology Complex – BCT is dedicated to teaching professional skills and best practices in the culinary arts. The floorplan includes workshops for commercial kitchen, baking, and dining services. Class material ranges from intricate recipes and video clips showing techniques to live in-house feeds.
The AV installation within the HRM Culinary Arts facility had to support local HDMI and HD‑SDI source signals and enable signal extension up to 250 feet (76.2 meters) between endpoints in each workshop from a centrally located equipment rack. Wallplate transmitters and display devices would be placed alongside culinary equipment, such as industrial-grade ovens, walk-in freezers, steam tables, and carving stations. Flexible content distribution was required to eight Sharp ® PN‑R426 flat panel displays, four each in the kitchen and bakery workshops, as well as to an Epson ® Powerlite 5535U projector in the dining workshop. Each flat panel display would be angle-mounted above a workstation, offering easy viewing without taking valuable counter space or interfering with food preparation. To capture class activities for live presentation and archive, Panasonic ® PTZ cameras with HD‑SDI signal output would be installed in the ceiling.
Additional requirements were for exceptional sound quality, assistive listening systems, along with wireless and AV device connectivity to enable content sharing from the instructor's laptop or other portable devices. To ensure easy operation, the design would include touch automation.
An Efficient, Flexible, and Upgradeable Solution
Mt. SAC brought in Centerpoint Communications to integrate two Extron solutions: an XTP ® system for AV signal switching and distribution and a Pro Series control system. The XTP II CrossPoint 3200 modular matrix switcher is configured as 20x20, with a variety of input and output boards for local connectivity and signal extension. XTP ® HDMI input and output boards support the three computers and three Extron ShareLink 200 N collaboration gateways installed with the rack-mounted matrix switcher, with a computer and a gateway assigned to each workshop. The ShareLink™ allows content sharing from an instructor or authorized student device over the college's wireless network. Two XTP CP 4i 3G‑SDI input boards receive signals from the PTZ camera system to facilitate easy observation of events, such as a cooking demonstration. For remote devices, XTP CP I/O twisted pair input and output boards enable signal extension to endpoints in the workshops.
To send audio signals to the sound system, an XTP CP 4o SA Board extracts audio from the sources. The 70‑volt distributed audio system incorporates an Extron FF 220T Flat Field ® ceiling tile speaker in each workshop to maintain consistent sound coverage throughout each room.
The design includes two points of local control, an Extron TLP Pro 1220TG 12" Tabletop TouchLink ® Pro Touchpanel mounted on a wall armature in the kitchen workshop and a TLP Pro 1022T 10" touchpanel at the lectern in the dining workshop. Both TouchLink Pro touchpanels are connected to the rack-mounted IPCP Pro 350 IP Link ® Pro control processor, which includes LinkLicense ® for User Interfaces. LinkLicense makes is possible to use a laptop or mobile device to control AV system operations. It allows the instructor to use the system without being in front of a physical touchpanel, as well as provides the support team with remote access to the system.
Reliable Performance
The college selected XTP and Pro Series control systems for use within the harsh environments of the teaching kitchen and bakery because of their experience with the proven quality, stability, and long-term reliability of Extron products. Mt. SAC is quite pleased with the performance and robustness of the XTP II CrossPoint ® matrix switcher and the ease of operation using the Extron control system within the HRM Culinary Arts facility.