Extron 4K Scaling & Switching Systems Empower Active Learning at Mt. San Antonio College BCT Complex
Public relations contact:
Joe da Silva, Vice President of Marketing
Extron
E-mail: pr@extron.com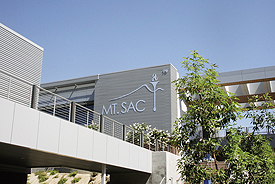 Anaheim, California (September 23, 2019) - Mt. San Antonio College – Mt. SAC in Walnut, California, provides award-winning degree and certification programs, ranging from business management to the culinary arts. To stay ahead of changing trends in education and career requirements, they designed the state-of-the-art 87,000-square foot Business and Computer Technology Complex – BCT with interactive classrooms, labs with demonstration workstations, plus a wide variety of lecture, meeting, and huddle spaces. Within each room, integration firm Centerpoint Communications installed a high-performance AV switching system based on either an Extron DTP CrossPoint 4K matrix switcher or an IN1608 Series presentation switcher. The compact size of these all-in-one models allowed it to fit into the college's custom ADA-compliant teaching station. Intuitive, flexible AV system control is also provided using Extron products. Depending on room size and purpose, the system has between one and seven display devices and a variety of sources, including a resident computer, a document camera, and AV connectivity for portable devices. The custom teaching station provides dual monitors, a touch display, and AV connectivity. In labs, each student workstation includes a display and AV connectivity with switching capabilities. Specific rooms also offer lecture capture, videoconferencing, and/or annotation capabilities. For system control, a touchpanel is installed at the teaching station or on the wall and can be shared with student lab workstations. The Extron control system also enables the support team to monitor, control, and provide assistance from across campus.
"Extron products are the time-tested standard for Mt. San Antonio College," says Chris Rodriguez, Manager, Technical Services Engineering at Mt. San Antonio College. "They have everything we need to build, manage, and control our AV systems."
The DTP CrossPoint matrix switchers and IN1608 Series presentation switchers fit easily within the college's custom teaching station, and their integrated features such as 4K scaling, audio amplification, and control processing streamlined installation and setup. A ShareLink 200 N wireless gateway facilitates content sharing from the instructor's laptop or other portable devices. System control is intuitive with TouchLink Pro touchpanels connected to the built-in IP Link Pro control processor. For remote monitoring and system control, the support team uses Extron GlobalViewer Enterprise software or the iGVE app. The features and capabilities of the Extron products helped Centerpoint Communications have the installation up and running in time for the start of the spring semester. Mt. SAC's design of the BCT complex with easy-to-use Extron AV signal switching and control systems allows instructors to focus on teaching rather than technology.
For more information on the Mt. San Antonio College BCT installation, click here.