Extron Introduces Next Generation of Twisted Pair Integration With New MTPX Plus Series Twisted Pair Matrix Switchers
Public relations contact:
Joe da Silva, Vice President of Marketing
Extron
E-mail: pr@extron.com
Anaheim, California (June 19, 2007)
- Extron Electronics is pleased to introduce the
MTPX Plus Series
Twisted Pair Matrix Switchers with industry leading features, such as dynamic skew compensation, RS-232 control signal insertion, local audio/video inputs and outputs, and level and peaking compensation. Available in six fixed I/O sizes from 8x16 to 32x32, MTPX Plus Series twisted pair matrix switchers are capable of routing high resolution video and audio signals 1,000 feet or more over CAT 5, 5e, or 6 UTP cable. The MTPX Plus Series simplifies AV system integration and uses active signal compensation to ensure consistent image quality. Fully compatible with Extron MTP Series twisted pair transmitters, receivers, and distribution amplifiers, MTPX Plus matrix switchers offer integrators the flexibility and cost-effective features for creating a wide variety of applications.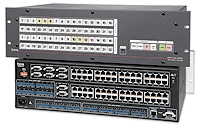 MTPX Plus Series

Click here to download high
resolution image
"We've been listening carefully to integrators, installers, and design engineers to develop the next generation of twisted pair matrix switchers," says Lee Dodson, Vice President of Marketing for Extron Electronics. "Our MTPX Plus Series has been specifically designed to facilitate system integration and eliminate many of the headaches normally encountered with other twisted pair solutions."
The MTPX Plus Series twisted pair matrix switchers work well with the new Extron MTP U Series Universal Mini Twisted Pair Receivers. Together they enable the distribution of composite video, S-video, component video, HDTV component video, and RGB computer video, along with mono audio or control signals on a single cable, which saves on installation time and cost, and dramatically reduces the number of matrix switcher outputs needed for each display.
Visit the press area of our Web site at www.extron.com/press for more information.