Complete Line of Extron MTPX Plus 6400 Twisted Pair Matrix Switchers Now Available
Public relations contact:
Joe da Silva, Vice President of Marketing
Extron
E-mail: pr@extron.com
Anaheim, California (September 1, 2011) - Extron Electronics is pleased to announce that the entire line of MTPX Plus 6400 Series twisted pair matrix switchers for RGBHV, HD component video, standard definition video, audio, and RS-232, is now shipping. These switchers are available in five different I/O sizes, from 48x48 to 64x64. They incorporate the existing features of the MTPX Plus Series with new advanced features, including EDID Minder® for local inputs and outputs, RS-232 insertion from the Ethernet port to all MTP outputs, and switchable video pre-peaking on all outputs.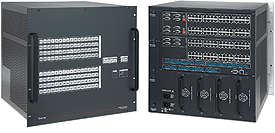 "With the key technology advancements offered in these larger matrix switchers, AV integrators can take full advantage of the benefits offered by twisted pair signal distribution," says Casey Hall, Vice President of Sales and Marketing for Extron. "The MTPX Plus 6400 Series makes system integration easier, eliminating many of the headaches normally encountered with other twisted pair solutions."
The MTPX Plus 6400 Series is capable of switching local and remote AV signals to multiple destinations, and is fully compatible with the entire Extron MTP product line. The MTPX Plus 6400 Series provides additional features to dramatically reduce costs associated with rack space, cabling, and installation. These features include dynamic skew equalization to maintain RGB color alignment at all times, video level and peaking compensation for brighter and sharper images, and local RS-232 insertion ports to eliminate the need for control system wiring to remote displays. Local high resolution video inputs and outputs eliminate the need for additional transmitters and receivers, and local audio output volume adjustment and muting eliminate the need for preamplifiers in many AV systems.
The MTPX Plus 6400 Series is part of the most comprehensive twisted pair product line in the industry, and reflects Extron's commitment to provide complete twisted pair solutions for every application.