Extron Introduces MTP U Series Universal Twisted Pair Receivers
Public relations contact:
Joe da Silva, Vice President of Marketing
Extron
E-mail: pr@extron.com
Anaheim, California (June 19, 2007)
- Extron Electronics is pleased to introduce the new
MTP U Series
Universal Mini Twisted Pair Receivers, designed to simplify the integration of complex twisted pair matrix switching applications. These compact receivers accept composite video, S-video, and VGA, along with audio or RS-232 signals, on a single CAT 5 type cable and output on the appropriate connector type at the display. Using one cable for all signal types simplifies system wiring and uses only a single matrix output and MTP U Series receiver per display.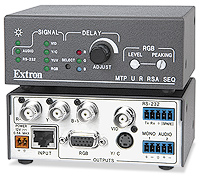 MTP U Series

Click here to download high
resolution image
MTP U Series universal receivers simplify integration and offer substantial savings on overall system costs compared to the typical UTP implementation," says Lee Dodson, Vice President of Marketing for Extron. "Together with Extron MTPX and MTPX Plus Series matrix switchers, these new receivers can be used to create elegant solutions to the challenges faced by integrators, installers, and design engineers."
There are three models in the series. The MTP U R A accepts video and audio signals. The MTP U R RS SEQ accepts video and bidirectional RS-232 control signals. The MTP U R RSA SEQ accepts video, audio, and bidirectional RS-232 control signals. All three models feature continuously variable level and peaking adjustments for optimizing image quality on long cable runs. The MTP U R RS SEQ and MTP U R RSA SEQ include independent skew delay compensation adjustments for each color.
Visit the press area of our Web site at www.extron.com/press for more information.