Extron Introduces New Daisy-Chainable Twisted Pair Receiver for RGB Computer Video and RS-232
Public relations contact:
Joe da Silva, Vice President of Marketing
Extron
E-mail: pr@extron.com
Anaheim, California (February 2, 2005)
– Extron Electronics introduces a new addition to their
MTP 15HD RS Series
for sending computer-video and serial communication signals over a single unshielded twisted pair (UTP) cable. The new
Extron MTP RL 15HD RS Mini Twisted Pair Receiver with Loop Through
features a buffered twisted pair output that enables up to seven receivers to be connected in series.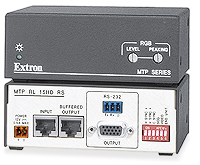 Click here for high resolution image
"Integrators are increasingly using twisted pair technology in a wide variety of AV applications," says Lee Dodson, vice president of marketing for Extron. "The new MTP RL 15HD RS will allow them to daisy chain multiple displays on a single long distance cable run, reducing cable requirements and simplifying installation." The MTP 15HD RS Series transmitter and receivers are compatible with resolutions up to 1600 x 1200 (UXGA) and support bi-directional serial communication. They are ideal for use where long distance cable runs (up to 600 feet/185 meters) are required, such as point-of-sale, digital signage, and kiosk applications. The MTP RL 15HD RS receiver offers separate continuously variable level and peaking adjustments for precisely optimizing image quality for various UTP cable lengths. The MTP RL 15HD RS lists for $530.00 and is available now. For additional information, please call an Extron Customer Support Representative at 800.633.9876.