Extron Universal Twisted Pair Transmitter for Digital and Analog Signals Now Shipping
Public relations contact:
Joe da Silva, Vice President of Marketing
Extron
E-mail: pr@extron.com
Anaheim, California (May 25, 2010) - Extron Electronics is pleased to announce the immediate availability of the MTP/HDMI U T A D, a decorator-style, universal twisted pair transmitter for digital and analog video sources. Dedicated inputs on the MTP/HDMI U T A D accommodate digital and analog video, audio, and bidirectional RS-232 or IR signals. These signals are transmitted long distances over economical CAT 5-type cabling to remote receiver locations.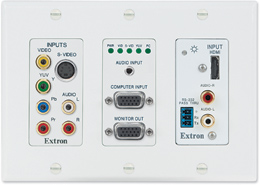 "The MTP/HDMI U T A D transmitter is designed to support the many different video formats commonly used in presentation environments," says Casey Hall, Vice President Sales and Marketing for Extron. "It provides a single point of connection in hybrid digital/analog systems, helping to overcome space constraints and distance challenges often encountered in AV systems."
The HDMI transmitter is HDCP compliant and enables HDMI signals to be carried over distances significantly greater than the lengths of standard HDMI cables. The HDMI input supports data rates up to 6.75 Gbps for HDMI 1.3 Deep Color, Lip Sync, and HD lossless audio. The analog inputs offer dedicated VGA, HD component video, S-video, composite video, and audio inputs for sending a wide variety of video signals along with summed mono audio signals over one CAT 5-type cable.
The MTP/HDMI U T A D is designed for wall-mounting with the included decorator-style wallplate, making it an ideal architectural connectivity solution for integrating digital and analog signals within an AV system. It is ideally paired with the Extron MTP/HDMI U R receiver to provide dramatic cost savings, design flexibility, and superior performance.