Extron Premieres New 1500' Twisted Pair Receivers for Extended Distances
Public relations contact:
Joe da Silva, Vice President of Marketing
Extron
E-mail: pr@extron.com
Anaheim, California (June 18, 2008)
- Extron Electronics is pleased to introduce the MTP 1500RL Series of extended distance twisted pair receivers. Available in four models, the new extended distance receivers work with MTP Series transmitters to send high resolution video along with RS-232 or audio signals 1,500 feet or more over a single CAT 5-type cable. The extended distance receivers are compatible with resolutions up to 1600x1200 UXGA, and feature separate continuously variable level and peaking adjustments that precisely optimize image quality for various cable lengths. The receivers are housed in low profile, rack-mountable metal enclosures that can be discreetly mounted in racks or behind wall-mounted displays.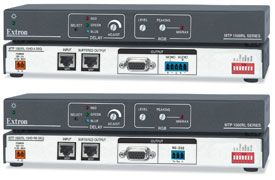 Click here to download high resolution image
"Our new long-distance receivers are the ideal choice for any application that requires high resolution video signals to be sent very long distances up to 1,500 feet," says Lee Dodson, Vice President of Marketing for Extron Electronics. "The extended distance capability makes them ideal for very large buildings, airport terminals, and for campuses with multiple buildings."
The four new receivers are compatible with the Extron MTP Series of transmitters, switchers, distribution amplifiers, and matrix switchers. Each receiver offers an additional female RJ-45 buffered output, enabling up to eight receivers to be connected in series, reducing the number of parallel cable runs required. Two of the models also feature skew equalization with independent skew delay compensation adjustments for each color.