Extron Now Shipping 60 Watt ENERGY STAR® Qualified Mini Power Amplifier
Public relations contact:
Joe da Silva, Vice President of Marketing
Extron
E-mail: pr@extron.com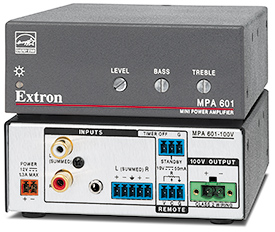 Anaheim, California (May 3, 2017) - Extron Electronics is pleased to announce the immediate availability of the MPA 601, an ENERGY STAR® qualified mono audio amplifier delivering 60 watts rms output. Housed in a compact convection cooled and UL 2043 plenum enclosure, it meets UL requirements for in-ceiling installations. The MPA 601 employs a highly efficient advanced Class D amplifier design featuring our patented CDRS - Class D Ripple Suppression technology providing a smooth, clean audio waveform and an improvement in signal fidelity over conventional Class D amplifiers. Three stereo inputs are individually buffered so three separate sources can be connected simultaneously. The MPA 601 meets ENERGY STAR qualification requirements with an auto power-down feature, placing the amplifier in standby after 25 minutes of inactivity. For sensitive applications that require uninterrupted operation, the standby timer can be disabled. The MPA 601 is ideal for applications with space restrictions that require sufficient power for a small to medium distributed audio system.
"Offering more power in a compact, plenum mountable enclosure with professional grade performance, the MPA 601 gives audio system designers an enormous amount of flexibility," says Casey Hall, Vice President of Sales and Marketing for Extron. "In large paging and background systems, MPA 601 amplifiers are just the right size to power smaller speaker zones, leaving larger amplifiers, such as our XPA 4002-70V to power the larger zones."
The MPA 601 is available in 70 volt and 100 volt models. With professional grade signal-to-noise of greater than 90 dB and ultra-low noise of less than 0.1% THD+N, the MPA 601 is ideal for use in applications where fidelity is critical. The compact 1U high, quarter-rack unit can be mounted in a small rack, within a credenza, within a lectern, or behind a display in lobby or commons locations. With a UL rating for use in plenum air spaces, it also allows for concealed installation above a drop ceiling to prevent theft while providing convenient placement of AV equipment.
To watch a product introduction video, please visit www.extron.com/mpa601_vid
For more information about the MPA 601-70V and MPA 601-100V, please visit: www.extron.com/mpa601_pr