Extron MPA 401 ENERGY STAR® Qualified Mini Power Amplifier Now Shipping
Public relations contact:
Joe da Silva, Vice President of Marketing
Extron
E-mail: pr@extron.com
Anaheim, California (January 12, 2010)
- Extron Electronics is pleased to announce the immediate availability of the MPA 401, an integrated Mini Power Amplifier that delivers 40 watts rms for 70 volt distributed speaker systems in classrooms, training rooms, and multi-purpose rooms. This ENERGY STAR qualified amplifier features an Extron exclusive, highly efficient, advanced Class D amplifier design with patented CDRS™ - Class D Ripple Suppression technology that provides a smooth, clean audio waveform and an improvement in signal fidelity over conventional Class D designs. This Extron exclusive, high efficiency design allows the amplifier to be fanless and operate in environments with little or no ventilation.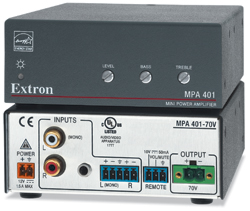 "The MPA 401, along with the XTRA™ Series, are the industry's first ENERGY STAR qualified commercial amplifiers that use less energy, run cooler, and take up less space than competitive models," says Casey Hall, Extron Vice President of Sales and Marketing for North America.
The MPA 401 ENERGY STAR qualified amplifier is an energy efficient product that conserves energy and reduces costs. With an auto power-down feature that automatically places the amplifier into standby after 25 minutes of inactivity, it consumes just 8 watts when idle and less than 1 watt in standby mode.
The MPA 401 accepts balanced and unbalanced stereo or mono inputs. The front panel includes controls for bass, treble, and input level. The MPA 401 combines the left and right channels into a single mono output. An advanced, automatic clip limiter protects speakers from clipping distortion. The MPA 401 features remote control capability for volume adjustment and muting.