Extron Introduces New MPA 181T 70 Volt Mono Mini Power Amplifier
Public relations contact:
Joe da Silva, Vice President of Marketing
Extron
E-mail: pr@extron.com
Anaheim, California (June 8, 2005)
- Extron Electronics is pleased to announce the
MPA 181T Mini Power Amplifier
. The MPA 181T is a compact, 70 volt, mono power amplifier for small integration projects with moderate sound system requirements. This amplifier is designed for constant voltage speaker distribution systems, delivering 18 watts (rms) output using an improved Class D amplification design. The MPA 181T is an ideal step up from a basic classroom system utilizing built-in video projector speakers.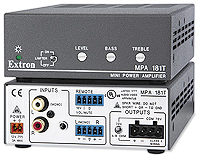 Click here for high resolution image
"The MPA 181T joins our popular
MPA 122
stereo version as another low cost, compact, and very efficient amplifier," says Lee Dodson, vice president of marketing for Extron. "We're offering this new mini power amplifier because our customers have requested a 70 volt version of the MPA 122." The MPA 181T is also compatible with traditional 4 and 8 ohm speaker systems, delivering 14 watts (rms) at 4 ohms, and 9 watts (rms) at 8 ohms. It accepts balanced and unbalanced stereo or mono inputs, and provides a summed mono audio output. Front panel controls are provided for bass, treble, and input level. Also included is a limiter switch which automatically reduces the gain to prevent distortion (amplifier clipping). The MPA 181T includes connections for remote volume adjustment and muting controls, such as the Extron
VCM 100
Volume and Mute Controller. Part of the VersaTools® line of small, economical, integrator friendly products, the MPA 181T is housed in a 1U, quarter rack width metal enclosure. With Extron mounting solutions, the MPA 181T can be conveniently installed above a projector or in a rack. The MPA 181T lists for $295.00. For availability, please contact an Extron Customer Support Representative at 800.633.9876 (inside U.S./Canada only).