Extron Unveils MediaLink® Systems Specialist Certification
Public relations contact:
Joe da Silva, Vice President of Marketing
Extron
E-mail: pr@extron.com
Anaheim, California (June 19, 2007) - Extron Electronics is pleased to introduce the MediaLink Systems Specialist Certification program, which explores Extron's award-winning MediaLink System, with an in-depth look at the hardware, software, accessories, applications, and systems. Through a combination of interactive online courses and hands-on exercises, participants will acquire a comprehensive understanding of the MediaLink family of products and will gain the necessary skills to configure a system for remote management, maintenance, and support using Extron's Global Configurator software.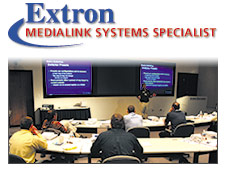 "The demand for specialists who are able to apply technical know-how and hands-on expertise in integrating AV products and technologies is increasing," says Lee Dodson, Vice President of Marketing for Extron. "Those who obtain the Extron MediaLink Systems Specialist Certification will have validated their skills to competently and successfully specify and configure MediaLink Systems in real-world applications."
The MediaLink Systems Specialist Certification program requires successful completion of the Extron AV Associate Certification program, two online courses covering Global Configurator software and MediaLink hardware and an instructor-led course on configuring MediaLink Systems. AV Professionals who complete the program are eligible for InfoComm, NSCA, CEDIA, and BICSI continuing education units. This program is designed for individuals who install, configure, operate, troubleshoot, and make decisions on products integrated into AV systems. Course candidates may include, but are not limited to, design engineers, systems integrator installers, system integrators, project managers, control system programmers, IT specialists, and sales professionals.
Visit the press area of our Web site at www.extron.com/press for more information.