Extron Shipping MediaLink Plus Controller with Ethernet Device Control
Public relations contact:
Joe da Silva, Vice President of Marketing
Extron
E-mail: pr@extron.com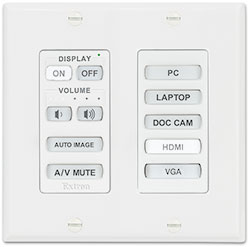 Anaheim, California (December 19, 2014) - Extron is pleased to announce the immediate availability of the MLC Plus 84 D. This easy-to-use, two-gang Ethernet controller is used for controlling common AV functions such as power, input switching, and volume. As part of the new MediaLink Plus Series, it is designed with more powerful features, enhanced security, and Ethernet control. It has eleven backlit soft touch buttons and a variety of ports and inputs, including a remote volume control port for use with select Extron amplifiers. Power over Ethernet – PoE allows the controller to receive power and communications over a single Ethernet cable. It is ideal for use in single display applications or anywhere that centralized, pushbutton AV control is needed.
"The MLC Plus 84 series are Extron's first pushbutton controllers that can take advantage of advanced configuration options within our new GC Plus and GC Pro software," says Casey Hall, Vice President of Sales and Marketing for Extron. "They are also the first of their kind to include Ethernet control for a wide variety of AV devices, allowing them to be remotely controlled from anywhere on the client's network."
The MLC Plus 84 D is configured using Extron Global Configurator Plus or Global Configurator Professional software. It also integrates seamlessly with Extron's award-winning GlobalViewer Enterprise software for complete AV resource monitoring, management, and control over a computer network.
To watch a product introduction video, please visit: www.extron.com/mlcplus84nsvideo
For more information on the MLC Plus 84 D, please visit: www.extron.com/mlcplus84dnspr