Extron Introduces MediaLink® Controllers with Contemporary New Design
Public relations contact:
Joe da Silva, Vice President of Marketing
Extron
E-mail: pr@extron.com
Anaheim, California (June 17, 2009)
- Extron Electronics is pleased to introduce the MLC 62 IR D and the MLC 62 RS D MediaLink® Controllers, which are elegant keypad controllers for classroom and meeting room AV systems. The controllers offer eight configurable soft touch buttons for control of common AV system operations, including power on, power off, volume up, volume down, and input source selection. The new controllers can be configured with IR learning or easy-to-use configuration software, which includes an extensive Extron library of ready-to-use drivers for projectors and flat panel displays. A USB configuration port is located behind the removable decorator-style wallplate, which allows easy configuration access without having to remove the installed controller. The controllers serve as a replacement for a display's handheld IR remote, providing user-friendly control for a display or projector.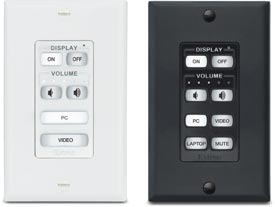 "Like the previous MLC 52 Series, the new MLC 62 D controllers provide a simple method of AV control, but now include expanded control and configuration capabilities," says Lee Dodson, Vice President of Marketing for Extron. "In addition, the soft touch buttons and decorator-style wallplate provide an elegant look that will complement any environment."
Both models of the MLC 62 D offer an IR port for universal display control. The MLC 62 RS D provides additional functionality with a unidirectional RS-232 port for display control, two relays for controlling screens and lights, and a digital input for interfacing with switches and sensors. Black and white decorator-style wallplates are included with both models.