Mobile County Public Schools Use Extron Collaboration Technology to Create Busy Learning Spaces
Public relations contact:
Joe da Silva, Director of Product Marketing
Extron
E-mail: pr@extron.com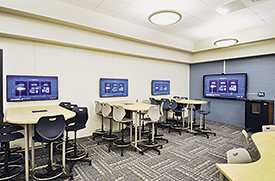 Anaheim, California (April 30, 2020) - Mobile County Public School System in Alabama is repurposing outdated computer labs and libraries into heavily used collaboration spaces equipped with modern AV technology. These spaces embrace the shift in teaching pedagogy away from lecture to collaborative and cooperative learning. Integrator Transport Solutions, Inc. designed and installed the AV systems based on Extron collaboration technology. Collaboration labs are comprised of several pods with seating for seven students. Each pod has a 48" display and an Extron Teamwork® Collaboration System. Students connect their devices via HDMI Show Me® cables to share content. The teacher has a 75" display at the front of the room. Making selections via a TouchLink® Pro Touchpanel, the teacher's screen can be mirrored on all pod displays or the pod displays can operate independently to show content from the students within each pod.
Teacher Krystle Smith says, "Students are really excited about the AV technology in the collab labs. They love being able to see and share their work on the large screen." District Telecommunications/Web manager Tracye Mathis adds, "One of the things I like about the Extron AV system is how quickly an instructor can enter a room and be teaching with the technology. They push ON, and everything fires up. Teachers tell me they love it."
The TeamWork systems support the free flow of ideas and conversation between students. When a student wants to share their screen with the group, they press the Share button on their Show Me cable and their content is presented on the pod's display. If the teacher sees a pod with student content that is particularly noteworthy, it can be featured on the main display at the front of the room via the system's ShareLink Pro 1000. Enhancing the collaboration experience are Extron Mini Power Amplifiers and FF 220T Flat Field® speakers, which provide superior audio performance for voice and music reproduction. Eighty percent of MCPSS' 89 schools have deployed collaboration spaces. Deployment to all campuses is slated within two years.
For the full story on the Mobile County Public School System Collaboration Labs, click here.