Municipal Courtroom - Digital System Design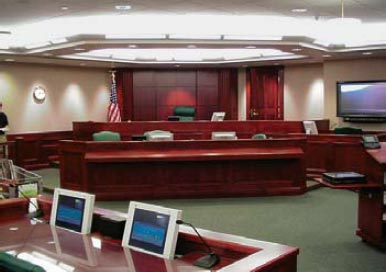 Overview
The Municipal court is a lower court which usually tries criminal misdemeanors and civil lawsuits involving lesser amounts of money than superior, district, or county courts. Municipal courts have city or county-wide jurisdiction, conduct preliminary hearings, and try cases of up to $25,000. The environment is fast-paced and AV support systems must be easy to set up and operate.
System Design Solution
Display System
Twelve 20 inch (51 cm) HDTV displays are required in the jury box to display the electronic evidence and other content, while two 65 inch (165 cm) plasma displays are needed for presenting evidence to the gallery. Three additional 20 inch (51 cm) HDTV displays are located at the witness stand, prosecution, and defense tables.
Sources
The prosecution and defense tables shall provide analog and digital source input connectivity to the content display system via an Extron Cable Cubby 600. An Extron DVS 304 DVI Video and RGB Scaler is used to convert the analog signals to DVI while scaling them to the intended resolution and aspect ratio. DVI signals at these locations are pre-switched using a four-input Extron SW4 DVI Plus switcher.
The evidence station includes a similar connectivity and is further enhanced with the addition of a DVD player, high resolution document camera, and touchpanel display. The heart of the evidence station is an Extron Annotator. The Annotator provides selection of multiple input formats and has integrated scaling that outputs the required resolution, aspect ratio, and appropriate signal format using the optional DVI output. The Annotator, with a third-party touchscreen provides all the tools required to highlight and emphasize any electronic evidence. The clerk's desk includes a PC workstation that may, on occasion, be used to provide content to the displays.
Digital Matrix Switching System
An Extron DXP 88 DVI Pro 8x8 matrix switcher is the heart of the system, and provides signal routing from the aforementioned sources to the displays. The matrix switcher's EDID Minder feature is used to negotiate resolution information from the digital displays to set each source's output to match their native resolution.
Signal Distribution
Extron DVI DA8 Plus distribution amplifiers, attached to the DXP 88 DVI Pro outputs drive jury displays and information sent for gallery viewing.
Extron DTP DVI 301 Twisted Pair Transmitters and Receivers are used extensively to extend 1080p signals 75 feet and beyond. EDID communications and HDCP can be passed through the DTP DVI 301.
Extron FOX 500 DVI Fiber Optic Extender products are utilized to transport evidence to the central monitoring location. They address system requirements for distance and content security.
The Extron DVI-RGB 200 is used for converting DVI signals to analog RGBHV for use with a digital recorder.
Control Interface
The judge and clerk are responsible for managing the content presented in the courtroom. Two control system touchpanels with video feedback are needed. The DVI-RGB 200 interfaces, in conjunction with Extron MTP Twisted Pair products, are again utilized for proper signal distribution.
Room Needs Assessment
Staffing
The judge and clerk are responsible for managing the courtroom. They both need touchpanel displays with video confidence feedback to control and manage content throughout the proceedings. The clerk may be required to display recorded evidence from his or her workstation PC. Both the judge and the clerk may restrict the viewing of evidence to the jury and audience, by muting the video signal to specific displays.
Display Requirements
All jurors need to be provided with their own displays in order to focus their attention. The prosecution and defense teams will also need to see the content, in order to monitor what is being presented to the witness and jury. Two large displays will also be required to provide the evidence content to the gallery, or audience members.
Sources
Laptops, PCs, paper documents, and video presentations are the primary content used to introduce and show evidence to the judge and/ or jury. Electronic evidence is submitted through a central evidence center, and electronic evidence may need to be annotated or "marked up" to highlight specific details to the judge and jury. There needs to be the capability to print these markups and save them to a file system.
Functional Requirements
The main design goal is to provide a content delivery system that is easy to set up, reliable, and easy to operate. The system must provide a strong backbone for future expansion, while accommodating integration of legacy equipment and signal types during the analog-to-digital transition period. Consistent resolution and aspect ratio is a requirement that must be maintained for all display devices in the system. Digital formats will provide uniformity in signal performance through several active digital video devices. Optimum resolutions are maximized through the use of the EDID functionality as part of the DVI format.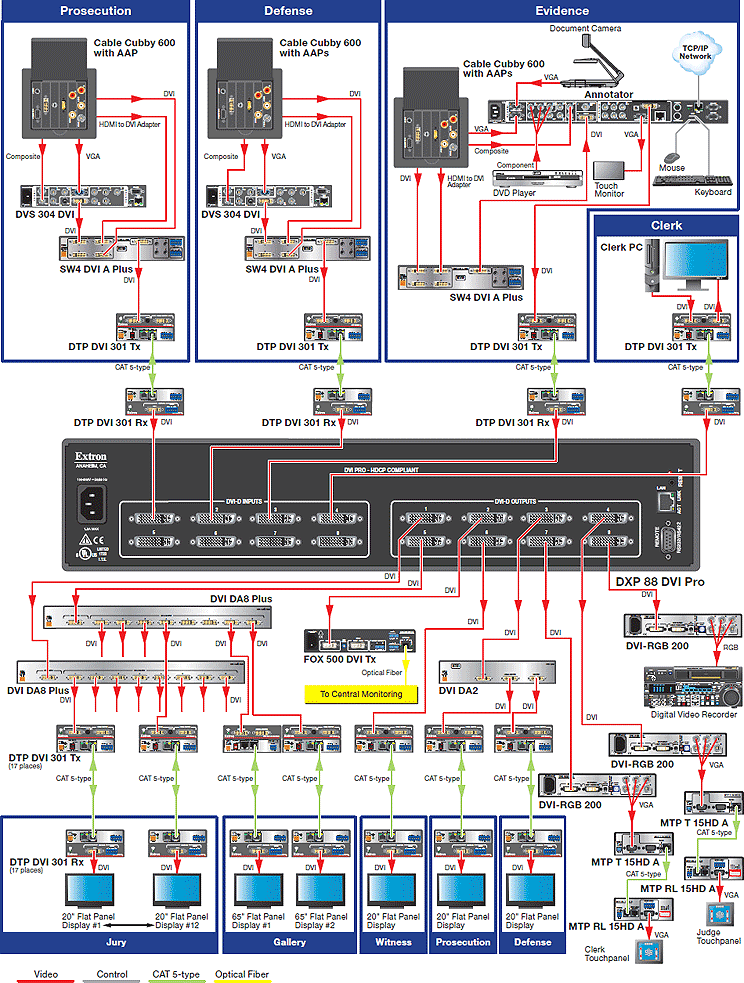 Download the story – High Res PDF – 1.07 MBs