Extron Introduces New MAV Plus Series Matrix Switchers
Public relations contact:
Joe da Silva, Vice President of Marketing
Extron
E-mail: pr@extron.com
Anaheim, California (March 10, 2005)
- Extron Electronics announces the new
Extron MAV Plus Series
of video and audio matrix switchers. Replacing the popular Matrix 50 Series and larger MAV Series models, the MAV Plus Series is ideal for a wide variety of standard and high definition analog video and audio signal routing applications. In addition, MAV Plus matrix switchers are packed with a host of innovative features, including Extron's exclusive
IP Link® Ethernet technology
, enhanced QuickSwitch Front Panel Controller (QS-FPC™), and volume control on each audio output.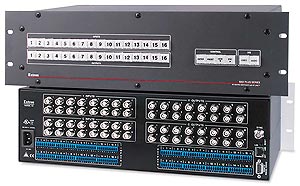 MAV Plus 1616 SVA shown
Click here to download high resolution image
"The new technologies we've integrated into the MAV Plus Series have created a versatile family of off-the-shelf switching solutions that is second to none," says Lee Dodson, vice president of marketing for Extron. The MAV Plus Series is engineered to ensure optimum signal quality in even the most complex, high definition video systems used in entertainment venues, university classrooms and lecture halls, and other large scale applications. IP Link is an IP integration technology that enables AV resource management, diagnostics, and control, such as remote selection of I/O ties and adjustment of audio input and output levels, from any authorized Web portal. Audio output volume control simplifies system design by eliminating the need for separate audio preamplifiers. With 56 models to choose from, ranging in sizes from 8x8 up to 32x32, the MAV Plus Series offers versatile switching solutions for applications that route HDTV and component video, S-video, and composite video, with or without stereo audio. In addition, a full line of stereo audio only MAV Plus matrix switchers are available for switching both balanced and unbalanced stereo audio signals. For pricing and availability, contact an Extron Customer Support Representative at 800.633.9876.