Extron and Lutron Working Together to Integrate AV and Lighting Control for the Modern Workspace
Public relations contact:
Joe da Silva, Director of Product Marketing
Extron
E-mail: pr@extron.com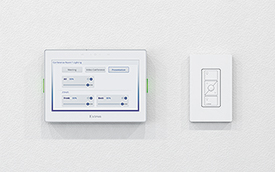 Anaheim, California (August 31, 2020) - Extron is pleased to announce our partnership with Lutron, the leader in lighting controls and automated shading solutions. Working together, we are combining Extron control capabilities with the Lutron Vive Wireless lighting control solution for today's smart-building projects.
Facility managers and AV professionals will appreciate the simple installation and setup – they can use the same Vive hub they have installed for lighting control flexibility, and simply add an Extron control processor and a touchpanel – or vice versa. A simple press on the Extron touchscreen allows you to adjust your light level and interact with other AV equipment in the room, enhancing the experience and versatility of lecture halls, conference rooms, and meeting spaces.
"At Lutron we are committed to simplifying smart-building control and elevating the lighting experience for the specifiers and installers, as well as for the people in the space," said Matt Ochs, Sr. Director Mid-Market Business, Lutron Electronics. "We are excited to work with Extron – a leader in A/V Technology – to bring Vive Wireless lighting control together with touchpanel and A/V integration through the simplicity of a web-based API."
"We are very excited to offer our customers all the advantages of the Lutron Vive Wireless solution using the simplicity of our Extron control system products. By working with Lutron – the world leader in smart lighting control – we know that our customers are getting a truly reliable, integrated experience," says Casey Hall, Vice President of Worldwide Sales and Marketing for Extron.
With the integration of Vive and Extron touchpanels you can access even more smart features. The Vive Wireless system can provide information to the Extron control system, such as occupancy data, to indicate real-time meeting space availability and status.
Designing the touchpanel control is simple. The Extron control processor sends commands to the Vive Wireless hub via web-based API. The Vive Wireless hub then communicates to Vive Wireless load controls to ensure a responsive lighting control experience as part of the complete smart-building solution.
To learn more, click here.
---
About Lutron Electronics
Founded in 1961, Lutron Electronics is headquartered in Coopersburg, Pennsylvania. From dimmers for the home, to lighting management systems for entire buildings, the company offers more than 15,000 energy-saving products, sold in more than 100 countries. In the US alone, Lutron products save an estimated 10 billion kWh of electricity, or approximately $1 billion in utility costs per year. The company's early inventions— including the first solid-state electronic dimmer invented by Lutron's founder, Joel Spira—are now at the Smithsonian's National Museum of American History in Washington, DC.