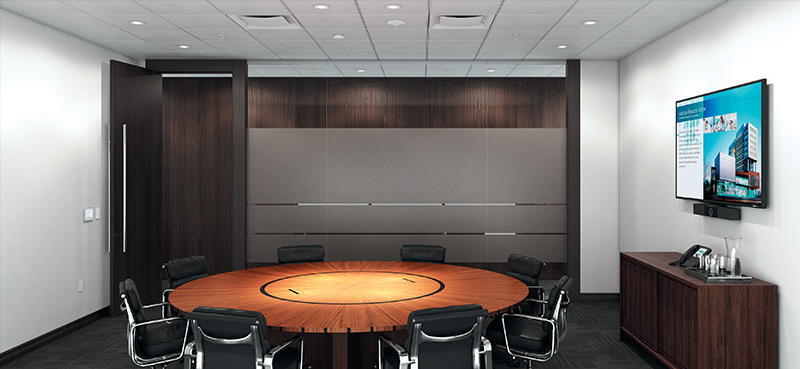 Extron and Lutron

and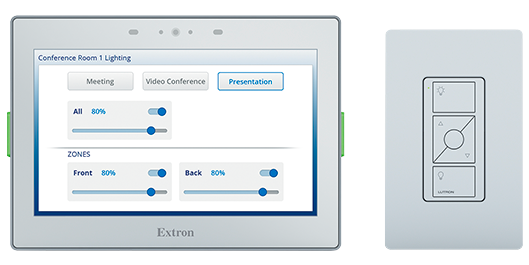 Extron and Lutron
Working Together to Integrate AV and Lighting Control for the Modern Workspace
Extron is pleased to announce our partnership with Lutron, the leader in lighting controls and automated shading solutions. Working together, we are combining Extron control capabilities with the Lutron Vive Wireless lighting control solution for today's smart-building projects.
Facility managers and AV professionals will appreciate the simple installation and setup – they can use the same Vive hub they have installed for lighting control flexibility and simply add an Extron control processor and a touchpanel – or vice versa. A simple tap on the Extron touchscreen allows you to adjust your light level and interact with other AV equipment in the room – enhancing the experience and versatility of lecture halls, conference rooms, and meeting spaces.
During project design, the new Extron and Lutron integration helps mitigate risk for engineers and designers who are reassured by the long-standing, trusted reputations of two industry icons. They can specify with confidence, knowing the integration will be seamless and work as expected.
With the integration of Vive and Extron touchpanels, you can access even more smart features. The Vive Wireless system can provide information to the Extron control system, such as occupancy data, to indicate real-time meeting space availability and status. The Extron control processor sends commands to the Vive Wireless Hub, which then communicates to Vive Wireless load controls to ensure a responsive lighting control experience as part of the complete smart-building solution.
Designing the touchpanel control is simple. Extron and Lutron are working together on a number of resources to make the design and integration easy with graphics and configuration resources. A Vive web-based API and documentation will soon be available.
Key Features
Build a standalone, touchscreen-based Vive lighting control solution, or combine AV system and lighting controls on an Extron TouchLink Pro touchpanel
Simple integration with the Lutron Vive web-based API
Resources available to support configurable and programmable Extron control systems
Share the sensors in the Vive lighting system with the in-room control system for occupancy detection in Smart Building applications
Conference Room
This conference room includes the Lutron Commercial Wireless Lighting Control System, which consists of the Lutron Vive Hub and a ceiling-mounted Lutron Occupancy Sensor. In this room, users have the flexibility to control the room's lighting, including adjusting zones and scenes, using either the Extron TLP Pro 725M or the Lutron Pico Wireless Controller mounted at the entrance. The TLP Pro 725M also enables users to easily control the room's AV system from the same interface.
Lecture Hall
This lecture hall uses the Lutron Commercial Wireless Lighting Control System, consisting of the Lutron Vive Hub, a Lutron Occupancy Sensor mounted centrally on the ceiling, and a ceiling-mounted Lutron Daylight Sensor positioned adjacent to the windows. The lighting system is controlled by the Extron TLP Pro 300M located at the entrance. The Lighting Control user interface on the touchpanel allows you to easily adjust the room's light levels, zones, and scenes as needed.