Extron Lowers Prices on Matrix Switchers
Public relations contact:
Joe da Silva, Vice President of Marketing
Extron
E-mail: pr@extron.com
Anaheim, California (February 5, 2008)
- Extron is pleased to announce new, lower prices on CrossPoint 450 Series matrix switchers. Effective immediately, the CrossPoint 450 Plus Series in sizes up to 16x16 will be positioned at the former price level of the CrossPoint 300 Series.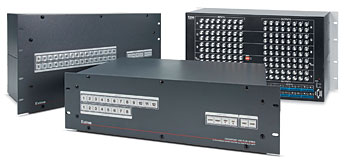 Click here to download high resolution image
Prices have been reduced substantially on all CrossPoint 450 Plus models for sizes up to 16x16. This family of full featured, high performance ultra-wideband matrix switchers offers the best solution for every matrix switcher application at highly competitive pricing. All CrossPoint 300 models will be retired with the exception of the CrossPoint 300 42 HVA. Prices on all retired models have been reduced by 5% while supplies last. All Extron matrix switchers are backed by Extron's Satisfaction Guarantee and its S3 commitment to Service, Support, and Solutions.
Please contact your Extron Customer Support Representative for information on matrix switcher sales and availability. Visit the press area of our Web site at www.extron.com/press for more information.