Extron and Logitech
Complete AV Control for the Modern Workspace
Extron makes it easy to add scalability, simplicity and automation to Logitech Tap room solutions within today's modern workspaces. Tap can be equipped with Extron control systems, audio signal processors, and digital video switching and distribution. Meeting attendees will benefit from a significant expansion of meeting collaboration features and the convenience of AV room control, all from a familiar user interface.
With the easy-to-use Extron on-screen control interface, meeting rooms can integrate video signal detection and occupancy sensors to automate video switching, lighting, and display presets.
In addition to control and automation solutions, Extron designs and builds a full range of audiovisual signal processing, distribution, scaling and switching products that complement Logitech solutions to elevate the user experience. As a Logitech Verified Audio Partner, we also offer DMP Plus integration with Logitech RoomMate. This allows even more flexibility and options for adding and manipulating audio features within your meeting spaces.
Download
Extron Control for Microsoft Teams Rooms
Extron Control for Microsoft Teams Rooms adds Extron Pro Series control capabilities to the full range of conferencing features provided by the Microsoft Teams Rooms application, which runs on Logitech Room Solutions for Microsoft Teams, thus allowing a single device to deliver both collaboration and control solutions for an enhanced meeting room experience. The Extron Control for Microsoft Teams Rooms application shows the secure Extron Control for Web HTML 5 Virtual TouchLink panel (vTLP) page, which can be configured with Extron Global Configurator Plus and Professional (GCP) or programmed with Global Scripter (GS). It allows various room functions, including shading, lighting, display, and camera controls.


Key Features
Extends the capabilities of Logitech products to fully-customize applications where AV or environmental control is needed.
Combines Extron device controls for meeting spaces equipped with the Logitech Tap as the primary interface.
Integrate occupancy sensors to automate lighting, display power, shade control, and other devices.
Adjust temperature, control display power, communicate with building management systems from a familiar interface.
Easily integrates with other Extron architectural, signal distribution and collaboration products.
Supports USB camera control, Extron audio DSP and MediaPort integration, and other unique capabilities.

New

Audio DSPs, Amplifiers, and Speakers Certified for Microsoft Teams Rooms
Documentation and GUI Files
Global Scripter Template and Release Notes
Drivers
MSI Installer and Release Notes
Extron and Zoom Rooms – Native Room Controls
Delivering an Integrated Conferencing Experience
The Extron Control for Zoom Rooms – Native Room Controls provides an Extron Global Configurator Professional Ethernet driver and a Zoom Rooms JSON - JavaScript Object Notation template file which simplifies and enhances deployment. The native Zoom experience is now available for Pro Series control with all Zoom Rooms native controllers. Using a Pro Series Control Processor provides access to Extron's extensive Driver Library and additional control options such as bi-directional RS-232, advanced Ethernet, and more.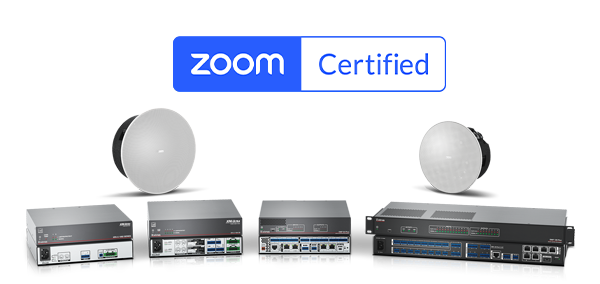 Key Features
Zoom Rooms Control interface customized by a JSON file
Add one-way Room Control buttons to Zoom Rooms Native interface
Works with any Zoom Rooms supported Controller

New

Audio DSPs, Amplifiers, and Speakers Certified for Zoom Rooms
GC Plus Templates and Release Notes
Drivers