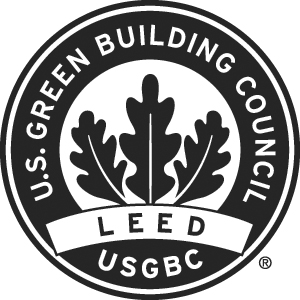 The U.S. Green Building Council – USGBC - is a 501(c)(3) nonprofit that developed the LEED® – Leadership in Energy and Environmental Design, Green Building Rating System. USGBC is the nationally accepted benchmark for the design, construction, and operation of high performance green buildings and offers a certification process for buildings and homes that qualify as high performance in terms of conservation of materials and energy usage.
When planning for LEED certification, every small reduction in energy consumption counts. Due to the popularity of AV products in new construction projects, there is no doubt that integrating energy efficient Extron products can play a role in the finished project's ability to earn points towards a LEED certification level. Extron dedicates considerable resources toward designing products that save energy. In addition to our highly efficient desktop power supplies and ENERGY STAR® qualified power amplifiers and power supplies, we offer the ultra-efficient CrossPoint® Ultra matrix switchers, which draw only 52 watts under full load. We also offer the MPX Series of multi-format media presentation switchers that can take the place of several switchers, thus requiring only a fraction of the power.
Visit the LEED Web site here.
'LEED' and related logo is a trademark owned by the U.S. Green Building Council and is used by permission.