Extron NAV Pro AVoIP Connects Researchers at Korea Institute for Advanced Study with Peers Worldwide
Public relations contact:
Joe da Silva, Vice President of Marketing
Extron
E-mail: pr@extron.com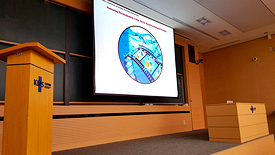 Anaheim, California (August 31, 2022) - Korea Institute for Advanced Study - KIAS - was established by the government of South Korea to promote research in mathematics, physics, and computational sciences. The Institute is a destination for scientists from all over the world to conduct collaborative research. It hosts international meetings, seminars, workshops, and seasonal schools where participants exchange ideas across disciplines and disseminate research findings. To further its collaboration goals, KIAS contracted with Seoul-based pro AV integrator Neuroo Digitech to design, install, and commission a professional VTC - video teleconferencing - system to connect its collaboration sessions, meetings, and seminars to presentation spaces throughout the building and to scientists around the world. Extron's NAV Pro AV over IP platform is at the core of the VTC system, providing a cost-effective and scalable solution to reach endpoints near and far.
"KIAS decision-makers were delighted to see how the design scaled so easily from their 100-person lecture hall to their 30-person meeting rooms, thanks to the versatility of NAV Pro AV over IP networking," says Mr. Dong Hee Ahn, Neuroo Digitech General Manager. "They almost immediately began planning for future phased expansions of their VTC capabilities by adding more NAV Pro endpoints to extend the reach of their knowledge sharing events."
KIAS required video teleconferencing connectivity between several meeting spaces within their building, plus capability to connect overseas participants via the Internet. A 1 Gbps Ethernet switch performs AV matrix switching for the VTC system over the enterprise network. AV sources interface to the switch via NAV E 101 encoders which convert HDMI signals to Ethernet. The switch sends the selected sources to the desired displays through NAV SD 101 decoders which convert Ethernet to HDMI. Matrix switching and NAV encoder and decoder endpoint configuration are controlled by a NAVigator Pro AV over IP System Manager. Remote audiences participate via a VTC hardware codec and through Zoom. Lectern mounted NBP 50 and NBP 200 Network Button Panels interfaced to IPCP Pro 250 and IPCP Pro 550 control processors turn displays on and off and adjust audio volume. Pre- and post-meeting AV system configuration is performed via an interactive user interface on the lectern's iPad tablet, sending user selections through an IPCP Pro 350 control processor. The LinkLicense for User Interfaces upgrade on the IPCP Pro 350 implements the AV system control functionality on the iPad.
To read the full KIAS case study, click here.