Extron Promotes Kathy Laterneau and Remy Nguyen to Regional Account Managers
Public relations contact:
Joe da Silva, Vice President of Marketing
Extron
E-mail: pr@extron.com
Anaheim, California (March 15, 2007)
- Extron Electronics is pleased to announce the promotions of Kathy Laterneau to Regional Account Manager - Northeast region, and Remy Nguyen to Regional Account Manager, Mid-Atlantic region.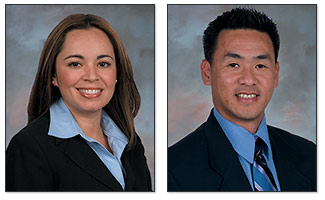 Click here to download high resolution image
Kathy has 15 years of customer service experience in addition to a degree in International Business from California State University, Fullerton. She has been with Extron for six years working in various roles with both Customer Support and Sales Support teams. Remy joined Extron last May, and has 14 years of industry experience in operations, program management and sales management with such companies as Lockheed Martin/Globalstar, NASA Ames, and LGC Wireless.
"In Kathy's new role as Regional Account Manager, she will have the opportunity to demonstrate her valuable skills by facilitating all training, support, and sales efforts for the Northeast Resellers," said Casey Hall, Vice President of Sales for North America. "Remy will seek and develop sales within the entire Mid-Atlantic region, and provide both pre-sales and post-sales support to our resellers. I am pleased to have two strong managers in these crucial roles."
Visit the press area of our Web site at www.extron.com/press for more information.