Extron Introduces AV Collaboration Solutions for K-12 Environments
Public relations contact:
Joe da Silva, Vice President of Marketing
Extron
E-mail: pr@extron.com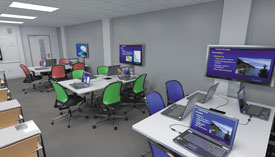 Anaheim, California (June 29, 2015) - Extron Electronics is pleased to introduce TeamWork and ShareLink, systems that provide integrated collaboration solutions for a wide variety of classroom environments. The Extron TeamWork System is a simple, intuitive collaboration system that allows small groups of students to share content from both digital and analog sources on a common display. Extron ShareLink is a wireless collaboration gateway that allows schools to support almost any smartphone, tablet, or laptop that makes its way onto campus. Either system can be used to create a stand-alone collaboration or presentation system or be integrated with any PoleVault, WallVault, or PlenumVault system, allowing students to cooperatively share their work with the entire class.
"The shift in instruction pedagogy away from strictly lecture and towards more collaborative learning will have a dramatic impact on everything from technology used to the actual design of the classroom," says Anthony Cortes, Director of Sales and Marketing, K-12 Classroom Systems, for Extron. "Extron's TeamWork and ShareLink systems are designed to help school districts easily create environments where students are able to work together and share a wide array of computing and display devices."
TeamWork System packages include source cables, a switcher, a system controller and a Cable Cubby enclosure, and are compatible with virtually any new or existing furniture system. The key to simple and intuitive operation is the "Show Me" cable which allows users to share their content with the push of a button. The system automatically powers on when a source is detected, and shuts down when all sources are disconnected.
ShareLink enables wireless presentation of content from almost any mobile device, including Apple® and Android® smartphones and tablets, or computers. The moderator feature provides instructors with complete control over which users have access the display. When multiple users are connected, ShareLink can display the content of up to four simultaneously, enhancing collaboration.
Visit our Web site at www.extronclassroom.com for more information.