Extron Announces Promotion of Jeremy Harper to Regional Sales Manager for Eastern Canada
Public relations contact:
Joe da Silva, Vice President of Marketing
Extron
E-mail: pr@extron.com
Anaheim, California (November 16, 2005)
- Extron Electronics is pleased to announce that Jeremy Harper, formerly regional account specialist for the Midwest and Canada, has been promoted to regional sales manager for Eastern Canada. In his new position, Jeremy will now be responsible for sales activity within the Manitoba, Ontario, Quebec, New Brunswick, and Nova Scotia provinces of Canada.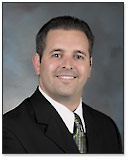 Click
here
to download
the high resolution image
"Jeremy has consistently served an important role in establishing and maintaining relationships with our customers throughout the Midwest and Canada," says Casey Hall, Extron vice president of sales for North America. "With our expanding presence in Eastern Canada, Jeremy will now be overseeing this market in continuing to ensure high quality, dedicated customer service and support." Jeremy joined Extron five years ago as sales support specialist, and more recently was promoted to regional account specialist. During his tenure, Jeremy has devoted his efforts to providing sales and technical assistance for the Midwest and Canada markets, including several of Extron's top dealers.