Extron ISS 506 Wins Award at InfoComm 2007
Public relations contact:
Joe da Silva, Vice President of Marketing
Extron
E-mail: pr@extron.com
Anaheim, California (July 09, 2007)
- Extron Electronics is pleased to announce that the
ISS 506
- Six Input Seamless Switcher was voted the Best Video Signal Processing or Distribution Product by the readers of Rental & Staging magazine.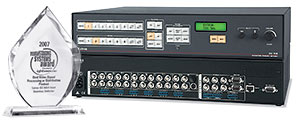 Click here to download high resolution image
The ISS 506 is a six input seamless switcher that accepts a wide variety of video signals including RGB computer-video, HDTV, and standard definition video. It combines truly seamless, glitch-free switching with advanced scaling technologies to meet the requirements of high quality, high resolution video presentations. Optional input and output boards are available to support a range of signal types, including an SDI/HD-SDI input board and HD-SDI, DVI, and scan-converted standard definition video output boards.
With presentation-enhancing features such as independent Preview and Program outputs, numerous switching transition effects, logo insertion, title keying, internal test patterns, and multiple control methods, the ISS 506 is designed to deliver advanced capabilities to high-end presentation environments.
To learn more about integrating the Extron ISS 506 into your application, please contact an Extron Customer Support Representative.