Enhance Your Presentations with True 4K/60 12G-SDI Seamless Switching
Public relations contact:
Joe da Silva, Vice President of Marketing
Extron
E-mail: pr@extron.com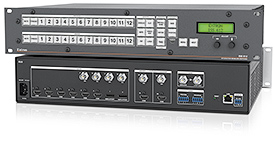 Anaheim, California (January 6, 2022) - Extron is pleased to announce it is now taking orders for the new ISS 612, a 12-input seamless switcher for the dynamic presentation and scaling of HDMI, DisplayPort, and 12G-SDI content at resolutions up to 4K/60. It supports a maximum data rate of 18 Gbps and features advanced Extron Vector 4K scaling technology. Separate Preview and Program outputs enable the operator to review sources before switching them to the viewing audience. For streamlined integration, the switcher provides audio de-embedding and multiple control options, including an intuitive front panel, RS-232, and Ethernet. The features and capabilities of the ISS 612 provide a true seamless switching solution for high-end presentation environments and live events.
"Our customers who are familiar with the features and flexibility of the ISS 608, know it is one of the most popular solutions in the professional AV space, but they wanted more, namely 12G-SDI capabilities." says Casey Hall, Vice President of Worldwide Sales and Marketing at Extron. "This new seamless switcher has everything included with the ISS 608 plus four 12G-SDI inputs, mirrored 12G-SDI outputs, and a buffered 12G-SDI genlock input with loop-through, making the ISS 612 a perfect fit for live event and small broadcast installations."
To enhance the delivery of any presentation, multiple switching and transition effects are available with the ISS 612 such as wipes with selectable direction and duration and a seamless cut that eliminates distracting jumps, glitches, and delays for true seamless source switching. Picture-in-picture mode facilitates insertion of a secondary source window that can be dynamically sized and positioned anywhere within the output. A company logo or other custom graphic can be stored and instantly recalled. Also, a wide variety of keying options enable the operator to overlay live content such as video or scrolling text
For more information on the ISS 612, click here.