Extron Now Shipping Scan Converter Output Board for ISM 824
Public relations contact:
Joe da Silva, Vice President of Marketing
Extron
E-mail: pr@extron.com
Anaheim, California (May 5, 2009)
- Extron Electronics is pleased to announce the immediate availability of the ISM SC computer-to-video scan converter board for the ISM 824 MultiSwitcher. The ISM SC converts any high resolution RGB or HDTV component video signal to NTSC or PAL composite video, S-video, or component video. It also accepts low resolution video as pass-through signals, and can transcode composite video, S-video, and component video input signals to match the selected scan converted output format. The ISM SC simplifies system design for applications requiring a standard definition video output for distribution to televisions, videoconferencing systems, or video recorders.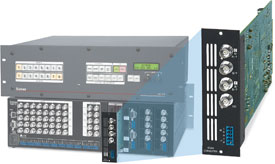 "The ISM 824 has become a favorite among integrators seeking a cost-effective yet flexible solution for AV system designs that incorporate a variety of signal conversion requirements," says Lee Dodson, Vice President of Marketing for Extron. "The new ISM SC Scan Converter Board rounds out the signal processing capabilities of this unique, modular matrix switcher."
The Extron ISM 824 MultiSwitcher is a unique modular matrix switcher that allows for simultaneous video and RGB scaling plus wideband switching in a single, compact enclosure. It combines the powerful signal routing capabilities of an eight input, eight output, wideband matrix switcher with the versatility of four customizable outputs. The ISM 824 can be equipped with any of the available scaling or scan conversion output boards for initial project requirements, and then upgraded at any time in the future with additional boards as system needs evolve and expand. It is ideal for applications such as boardrooms, auditoriums, and classrooms that require high-performance signal routing with flexible, on-board signal processing.