Extron Introduces New Universal Twisted Pair Output Board for ISM 824
Public relations contact:
Joe da Silva, Vice President of Marketing
Extron
E-mail: pr@extron.com
Anaheim, California (April 9, 2009)
- Extron Electronics is pleased to introduce the new ISM MTP UT 4DA, a unique MTP Twisted Pair Series transmitter board with four outputs for the ISM 824 MultiSwitcher. The ISM MTP UT 4DA is a universal transmitter that accepts any input signal from the ISM 824 and then transmits video, audio, and control signals up to 600 feet (185 meters) on a single UTP cable to up to four MTP Series twisted pair receivers. The ISM MTP UT 4DA also features local RS-232 insertion ports, which eliminate the need for additional control system infrastructure to support remote displays, while overcoming the 100-foot (30m) distance limitation for RS-232 signals.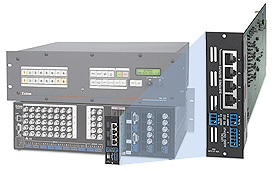 "Because of its efficient design and signal processing capabilities, the ISM 824 has become a popular choice for AV integrators," says Lee Dodson, Vice President of Marketing for Extron Electronics. "The addition of the new ISM MTP UT 4DA provides integrators with the ability to route any analog video signal, along with audio or control, over low cost twisted pair cable."
The Extron ISM 824 MultiSwitcher is a unique modular matrix switcher that allows for simultaneous video and RGB scaling plus wideband switching in a single, compact enclosure. It combines the powerful signal routing capabilities of an eight input, eight output, wideband matrix switcher with the versatility of four customizable outputs. The ISM 824 can be equipped with any of the available scaling or scan conversion output boards for initial project requirements, and then upgraded at any time in the future with additional boards as system needs evolve and expand. It is ideal for applications such as boardrooms, auditoriums, and classrooms that require high-performance signal routing with flexible, on-board signal processing.