Extron Premieres First Modular MultiSwitcher
Public relations contact:
Joe da Silva, Vice President of Marketing
Extron
E-mail: pr@extron.com
Anaheim, California (29 May, 2007)
- Extron Electronics is pleased to introduce the ISM 824 MultiSwitcher, a unique modular matrix switcher that allows for simultaneous video/RGB scaling and wideband switching in a single, compact enclosure. It combines the powerful signal routing capabilities of an eight input, eight output, wideband matrix switcher with the versatility of four customizable outputs. The Extron ISM 824 can be equipped with any of the available scaling or scan conversion output boards for initial project requirements, and then upgraded at any time in the future with additional boards as system needs evolve and expand. It is ideal for applications such as boardrooms, auditoriums, and classrooms that require high-performance signal routing with flexible, on-board signal processing.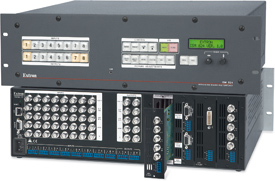 Click here to download high resolution image
"The ISM 824 allows integrators to easily configure the output slots with any combination of optional signal processing boards," says Lee Dodson, Vice President of Marketing for Extron Electronics. "This unique functionality enables the ISM 824 to be upgraded and adapted to changing AV needs in a variety of presentation environments"
Seven output expansion boards are available for the ISM 824 with the same advanced video processing technologies employed in Extron scalers, signal processors, and scan converters. The Universal RGB and Video Scaler Output Board features high performance RGB and video scaling, with upconversion and downconversion of high resolution RGB signals, as well as standard definition video signals. This board is available in three versions: Analog, DVI, and HD-SDI. The Video Scaler Output Board scales standard definition composite video and S-video signals to a common, high resolution output rate. It offers 56 selectable output rates from 640x480 to 1400x1050, including HDTV 1080p. Finally, Single and Dual Output Wideband Boards are available for additional matrix switcher outputs.
As a matrix switcher, the ISM 824 is similar in performance to Extron's popular CrossPoint 450 Plus Series, with eight fully-configurable inputs which accept RGBHV, RGBS , RGsB, HDTV, component video, S-video, and composite video. It also includes key features such as ADSP™ - Advanced Digital Sync Processing, DVSP™ - Digital Sync Validation Processing, and audio output volume control. All features and functions of the ISM 824, including those of any installed output boards, are fully accessible from the front panel, as well as through RS-232 serial and IP Link Ethernet.