Extron ISM 824 Wins "Best Signal Management" Award From Installation Europe Magazine
Public relations contact:
Joe da Silva, Vice President of Marketing
Extron
E-mail: pr@extron.com
Anaheim, California (October 1,  2007)
- Extron Electronics is pleased to announce that the ISM 824 was selected as the Best Signal Management Product by Installation Europe magazine. The IE 2007 Awards celebrate excellence in audio, video, and lighting installation projects and in the products used by installers. The ISM 824 was chosen by a panel of experts from the design, manufacturing and installation communities.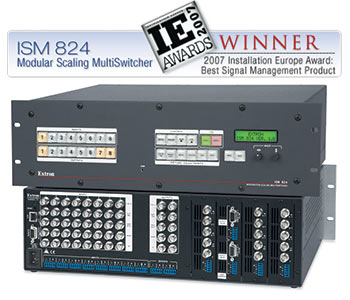 Click here to download high resolution image
The ISM 824 MultiSwitcher is a unique modular matrix switcher that allows for simultaneous video and RGB scaling plus wideband switching in a single, compact enclosure. It combines the powerful signal routing capabilities of an eight input, eight output, wideband matrix switcher with the versatility of four customizable outputs.
The Extron ISM 824 can be equipped with any of the available scaling or scan conversion output boards for initial project requirements, and then upgraded at any time in the future with additional boards as system needs evolve and expand. It is ideal for applications such as boardrooms, auditoriums, and classrooms that require high-performance signal routing with flexible, on-board signal processing.
Visit the press area of our Web site at www.extron.com/press for more information.