Extron Introduces New IP Link® Ethernet-Enabled Power Control And Current Sensor
Public relations contact:
Joe da Silva, Vice President of Marketing
Extron
E-mail: pr@extron.com
Anaheim, California (January 27, 2005)
– Extron Electronics introduces the IPL T PCS4 Power Control and Current Sensor, a new product with a built-in Web server that enables flexible, centralized, Web-based power management. In addition to four 120VAC (Edison) outlets, the
IPL T PCS4
offers pre-loaded control pages for Web-based monitoring, scheduling, and control capabilities. Electrical current thresholds can be set to define full power, standby, and power off states for individual devices and for groups of outlets. Those thresholds can be used to feed status reports, as well as trigger alarms and other automated events. The IPL T PCS4 features
Extron IP Link® technology
which provides an integrated Web server, full Ethernet compatibility, and e-mail capability.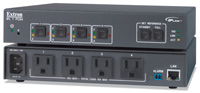 IPL T PCS4
Click here for high resolution image
"Our ongoing efforts to provide innovative products to the industry continue to drive the development of new IP Link products," says Lee Dodson, vice president of marketing for Extron Electronics. "Integrators can now include versatile and scalable power management in a wide variety of applications."
Extron's GlobalViewer® software
is fully supported by the Web server built into the IPL T PCS4. GlobalViewer software is a free Web application with robust features including multiple room views, real-time device status, e-mail notification, and event scheduling. GlobalViewer software extends the AV resource management functionality of the IPL T PCS4, allowing status information for multiple power control and current sensors to appear directly in a single GlobalViewer screen along with the data for other IP Link-enabled products. For pricing and availability, please call an Extron Customer Support Representative at 800.633.9876.