IPL EXP PDU4H
Next Generation Power Management
The IPL EXP PDU4H is a powerful and versatile control system power expansion interface that provides centralized power management for small to medium sized AV systems. It delivers the ability to control individual AC outlets remotely and provides powerful reporting and troubleshooting when used within an Extron control system, including both aggregate and individual receptacle current sensing, for monitoring power consumption of connected devices. The IPL EXP PDU4H is ethernet enabled and features four AC outlets, four override input ports, and a relay for additional system support. It is designed to be used with an Extron IPCP Pro xi Series control processor for secure, encrypted power control of attached devices. It can also operate independently using a secure Extron API, enabling seamless integration for specialized applications. The IPL EXP PDU4H is housed in a compact 1U half rack enclosure that offers a broad variety of mounting options.
Feature Highlights
Works in three modes of operation for system design flexibility
Secure Platform Device allows for secure, encrypted AV control interface for management from all Extron IPCP Pro xi Series control processors
Independent operation using a secure Extron API allows for compatibility with control systems within a secure Ethernet environment
Four manual control contact closure ports for power management directly from the rear of the control system expansion interface
Supports Worldwide Power Requirements
Provides four independent 100/240 VAC, 12/10A max, IEC female outlets
Powerful reporting and troubleshooting
When used with an Extron control system, aggregate current sensing can be used for monitoring power consumption of connected devices
Extra Protection for your powered products
Multiple, single stage MOVs provide surge protection allowing for up to 1,750 Joules of protection for attached devices
24V relay can be tied to a control system for voltage threshold alarms
12A circuit breaker button for over current protection
Power up Sequencing
In the event of power loss and restart, power outlet receptacles can be powered on sequentially with a user-configurable delay between each one preventing a power overload spike and a blown fuse or tripped circuit breaker from occurring.
IPL EXP PDU4H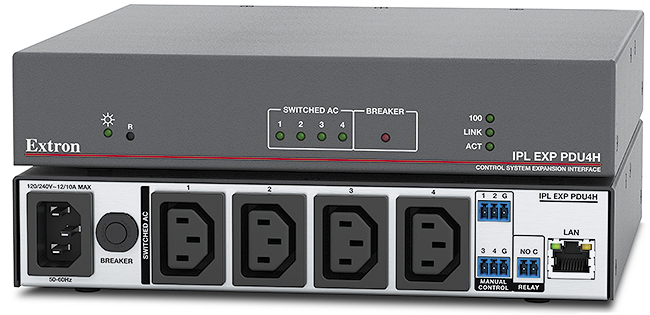 Reset button and LED indicator

One 100/240 VAC, 12/10A max, IEC male input

Single 12A circuit breaker button for over-current protection

Four 100/240 VAC, 12/10A max, IEC female outlets for worldwide use

Four manual control ports for control of the outlets via contact closure

Relay output for connecting to external alarms

Ethernet port for network control and management

LED indicators to assist in monitoring and troubleshooting of control ports and network